The most difficult pass to defend in the NFL at this moment is a Matthew Stafford jump ball to Calvin Johnson.
Johnson is 6-5. He vertical jumped 44 ½ inches at Georgia Tech's pro day in 2007. He is physical and can body up defenders. He can high point the football.
Throw it up, he catches it.
Johnson caught two jump ball touchdowns last week against the Cowboys, and has caught five jump balls for the season.
Part of it is simple -- Johnson is taller than virtually everyone who tries to defend him on jump balls, and can reach higher. Whenever Johnson makes a jump ball catch, teammate Rashied Davis sidles up to him on the sideline with a big grin on his face, and, in a sing-songy manner, says, "I'm bigger than youuuuuu."
"He does a lot of things well, but there's one thing you can't game plan for, and that's that he is bigger than everybody," fellow Lions receiver Nate Burleson said. "That's what he does great."
But there is more to the jump ball than size. Just ask Megatron.
"You have to time the ball up, and then you have to catch it," Johnson told me. "It's really all timing. The defenders don't know when it's coming, so you can't key on it. It's reaction by both parties."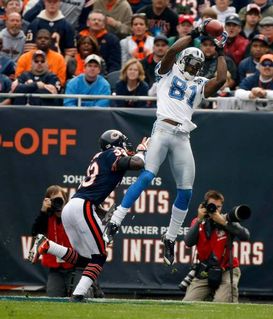 You need a ladder to defend these kinds of passes to Calvin Johnson.
Different defenders try to stop the pass in different ways. Some try to body him up before the throw. Some attempt to go for the ball in the air. Others try to hit him hard as he catches it, or go for the ball as he's coming down with it. It will be interesting to see how Bears cornerback Charles Tillman tries to defend the jump ball when he tangles with Johnson Monday night at Ford Field.
The first key for Megatron is to catch the ball at its highest point with as much extension as possible. "You can't catch it in your body," he said. "That's when you get it knocked out."
Then he has to hold on for dear life. "DBs are taught to play through the ball. Once you get your hands on the ball, [they] rip your arms out from under you, rip, try to get the ball dislodged. I know that impact with the ground is coming so you have to squeeze the ball a little extra tight."
Johnson told me he thinks he has improved his technique on jump balls, and he's better at catching the high ones than ever. "I'm always working on my craft," he said. "It's a non-stop process. You don't ever want to plateau."
Part of what makes Johnson so good is he does everything well. There really isn't a route he can't run with the best of them. He previously told me his favorite route was the skinny, and he thought his best route was the out. He also said he likes to be pressed.
But the most difficult play to defend? "Jump ball," he said. "It takes another person with good timing and ball skills and size to get the ball."
And God made only one Megatron.
Things I Didn't Used To Know
*If things continue the way they are going in Miami, people close to the situation believe the Dolphins job will be Jon Gruden's if he wants it. Gruden remains undecided on whether or not he will remain in broadcasting. It's likely Stephen Ross will offer Gruden a sweatheart deal that will make it difficult for Gruden to turn down. Rumors continue that the Dolphins also will hire Carl Peterson as team president.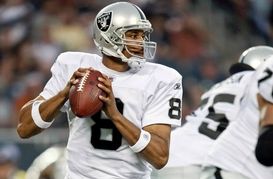 ICONJason Campbell is in a good groove in Oakland.
*Jason Campbell seems to have settled into a groove for the Raiders and is playing as well as he has in his seven year career. Inside the Raiders headquarters, they think they know why. Campbell is in the same offensive system for a second consecutive year for only the second time in his career. He also is surrounded with some decent players—he is being protected, he has a run game and he has talented receivers to throw to. And finally, he no longer has to worry about Bruce Gradkowski trying to undermine him. A source said the relationship between Campbell and his former backup was not a healthy one.
*The Seahawks have some big bucks wrapped up their wide receivers, but their most productive receiver signed with them for a $17,500 signing bonus. Undrafted rookie free agent Doug Baldwin is leading the team in catches and yards, and he has been the third most productive rookie receiver in the league, behind only first round picks Julio Jones and A.J. Green. Baldwin was considered small and slow by many teams, but scouts overlooked his long arms, jumping ability, suddenness and ability to separate. Even though Baldwin was undrafted, many teams were interested in signing him after the draft. In fact, Jim Harbaugh, who coached Baldwin at Stanford, wanted him on the 49ers. Baldwin chose to sign with the rival Seahawks over the 49ers in part because the 49ers had drafted a receiver, Ron Johnson, in the sixth round, and Baldwin thought he would have a better chance in Seattle.
*It's very early, but the 2012 draft class is not exciting many teams. Once you get past Andrew Luck and Landry Jones (assuming they come out), the April crop could be one of the leanest in memory. One personnel director predicted the juniors are going to beef it up, but nowhere near to the extent they normally do. The Falcons and Saints, who traded away 2012 first round picks for 2011 picks are looking pretty smart at this point.
*Former Chargers first round pick Larry English may have more two-sack games like he did a week ago if he can stay healthy. English' biggest problem to date, according to my Chargers sources, is he hasn't been healthy enough to learn to play outside linebacker. English was a down end in college, and has had to master a new position with the Chargers. In three years he's missed quite a bit of practice time with foot and groin injuries, so he hasn't taken enough reps to get a feel for his new position. He has shown improvement in recent weeks, but he still has a ways to go.
My Sunday Best: Comeback Teams
The Lions have overcome deficits of 20 and 24 points in consecutive weeks. That makes them one of the best comeback teams in the NFL. Here are my best comeback teams—teams you never can be comfortable with no matter how big your fourth quarter lead is (apologies for the omission of the Colts, who would be a great comeback team if not for the absence of Peyton Manning).
1. Patriots. No team is more explosive offensively, and no team better exploits matchup advantages. What's more, Tom Brady is probably the best clutch passer in the game. He has 23 career comebacks and 32 game winning drives, as defined by profootballreference.com.
2. Steelers. Big Ben makes them a threat to win every game at the end. His ability to improvise and make big plays even when a defense does almost everything right sets the Steelers apart. Roethlisberger has a great fourth quarter history. Last year, his fourth quarter passer rating was 110.3 according to Stats, Inc.
3. Saints. Drew Brees is so calm under pressure. His leadership is especially evident in comeback situations. He has 26 game winning drives on his resume.
4. Chargers. Philip Rivers plus huge receivers and an outstanding pass catching tight end equals comebacks. Rivers had 13 fourth quarter comebacks to his credit.
5. Eagles. Michael Vick adds an element of unpredictability to this offense. The Eagles can turn a game around quickly when Vick escapes the pocket for a couple long runs.
6. Lions. It's early in Matthew Stafford's career (he has only 17 career starts), but you have to like what you've seen so far. He has one of the strongest arms in the NFL and a receiver who may be the best red zone weapon in football (see above).
7. Falcons. They have been off their game this year, but the Falcons have been a solid comeback team under Matt Ryan. He has led 14 game winning drives, and has explosive receivers to throw to in Roddy White and Julio Jones.
8. Packers. Aaron Rodgers has not had as many comeback wins as a lot of other quarterbacks, and he's actually been criticized for it. But there is little doubt Rodgers and the Packers offense are capable of the spectacular late game comeback. Their passing game—with the deepest group of premier pass catchers in football--is as difficult to defend as any.
9. Cowboys. The joke making the rounds this week: whenever Tony Romo is in a game, both teams have a great chance of making a fourth quarter comeback. Give Romo credit though—he has 12 fourth quarter comebacks.
10. Giants. You don't think of Eli Manning as a comeback player, but he has led 16 career fourth quarter comebacks. His 2011 fourth quarter passer rating of 139.5 is best in the NFL.
Scout Talk: Running Backs in the 2012 Draft
It's looking like a pretty average year for running backs, and the top backs selected are likely to all be underclassmen assuming they come out.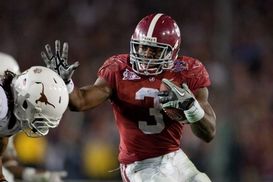 ICONTrent Richardson has the attention of NFL scouts as well as Heisman voters.
The best prospect by far is underclassman Trent Richardson of Alabama. If he stays on track, he can be a top ten selection. Richardson is a complete back who will likely carry a higher grade in most draft rooms than Mark Ingram did one year ago. Other underclassmen who are creating a buzz include Michigan State's Edwin Baker and Texas A&M's Christine Michael. Arkansas' Knile Davis is a legitimate prospect, but is out for the year with an ankle injury.
Of the seniors, Boise State's Doug Martin stands out. He's a solid all-around back with good speed but average elusiveness. He is thought of as a second to third round prospect.
Others who could go as high as the third round include Texas A&M's Cyrus Gray, Mississippi State's Vick Ballard, Cincinnati's Isaiah Pead, and Florida's Jeff Demps. Gray runs hard and has good suddenness. Ballard shows good vision and patience. Pead has been highly productive and has dynamic speed. Demps is a potential change of pace back in the mold of Dexter McCluster.
Scouts also are paying close attention to Tennessee's Tauren Poole, Ohio State's Dan Harron and Mississippi's Brandon Bolden.
One Man Yelp: Real Steel
I have been interested in Real Steel since I ate at a table next to Hugh Jackman and Sugar Ray Leonard, who was a consultant for the film, in Dallas last February during Super Bowl week.
The trailer made me curious too. Of course, a lot of movies look better in the trailer. Real Steel was not one of those.
It's not a story about a video game come to life, which it kind of looked like in the ad. It's not Transformers. It's better. It's more Rocky with robots, with the same kind of feel-good element. It's one of those movies that some critics will turn their noses up but audiences will love. It's got to be good if everybody in the theater cheers, right?
They cheer for a robot who is redeemed from the junkyard, but they also cheer for a father and a man who is redeemed from a junkyard existence. This movie is about the steel in the soul of Charlie Kenton (Jackman) and his estranged son Max (Dakota Goyo). Does it get a little corny at times? Yes. I can live with a little corny though.
Kenton is in the game of robot boxing, which is kind of a combination of boxing, MMA and pro wrestling. While the movie is set in the not too distant future, the story is a timeless one.
*If you are interested in solid pre-game information on every game from some of the top beat men in the country, give this regular new NFP feature a look.
Hot Reads
*Not many men in the history of the National Football League have left a bigger footprint than Al Davis. He has been an iconic contributor on many levels. He was the Raiders. Rest in peace.
*Come on Hank Williams. You don't have to like the president's politics, but show some respect for the office and some sensitivity to all those who suffered and died because of Hitler. I believe completely in free speech, but free speech doesn't mean there aren't and shouldn't be repercussions for idiotic comments. It's not political. Same rules applied to Madonna when she compared John McCain to Hitler.
*In the staredown between Carson Palmer and the Bengals, Mike Brown won't blink first.
*Shouldn't Kevin Burnett be concerned with tackling Jets and not sportswriters?
*Brett Favre is surprised it took Aaron Rodgers so long to win a Super Bowl. Rodgers, meanwhile, must be surprised it took Favre so long to retire.
*Isn't what is going on with Tony Sparano kind of like what was going on with Tommy DeVito in Goodfellas right when he thought he was about to be made?
Dan Pompei covers pro football for the Chicago Tribune at chicagotribune.com. Follow him at Twitter@danpompei
NFP's Introduction to Scouting Class is now registering for our Winter sessions! Save $200 if you register before December 20th! REGISTER NOW!