NFP's Introduction to Scouting Class is now registering for our next session! Early bird pricing in effect until February 15th! Save $100 and REGISTER NOW!
Usually, ascensions in an NFL front office are time consuming and deliberate. Everyone knows you don't go from running a huddle to running a draft meeting.
But John Elway isn't just anybody. He has some pretty unique qualifications to run the Denver Broncos. And he's accustomed to going to the front of the line.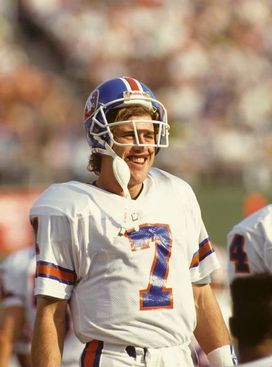 As a quarterback, he was a legend. But as a front office man, he is just a new guy learning the ropes.
"I was the No. 1 recruit going into college," Elway told me. "I was the No. 1 draft pick coming into the pros. I was always looked at a different way, and spent my time trying to blend in and make people around me realize I'm one of them, no matter where I went in the draft or whatnot. I didn't come up through the NFL ranks even though I came up as a player through the NFL ranks. A lot of times players don't get the credit because they didn't come up through the personnel side or the coaching side."
Elway is conscious of how he is perceived by his peers. "There is no question there is a fraternity among the coaches and personnel people in this league," he said. "It's a tight knit fraternity. That was a concern of mine, how it was going to be perceived by them."
You hardly ever see former star players given a front office throne without first paying their dues. It happened with Matt Millen, and that didn't turn out so well. Dan Marino had the big office at the team's headquarters for about 12 minutes back in 2004.
The way Ozzie Newsome did it is much more accepted. The Hall of Fame tight end began working for his former team as an assignment scout in 1991. It took him four promotions and 11 years to become a general manager. Another Hall of Famer, Mike Munchak, became a head coach this year after 17 years as an assistant, including his start as a quality control coach.
Elway took a different path. After his Hall of Fame career ended, he opened a couple of steak houses and some auto dealerships. He even helped coach his son's high school team for a spell.
All the while though, he thought about doing what he's doing now. He subsequently became involved, as co-owner, with the Colorado Crush of the Arena League. He handled their football operations and had a hand in marketing and promotions. He also sat in on the Broncos draft in 2001 to get a feel for the process.
So nothing that has happened in Elway's nearly five months as Broncos' executive vice president of football operations has caught him off guard. He has blended in with the rank and file, and others in the Broncos' front office have gone out of their way to say how impressed they have been with him. Elway has not been a 9-to-5-er, as his office light often has been on when the sun isn't out.
"I kind of knew the time that would need to be spent, what I was getting into," Elway said. "Nothing has surprised me too much. The hours don't scare me because I enjoy doing this. It's something I want to do. It's really not work if you love what you're doing."
When Elway has had questions, he has relied on the counsel of Ernie Accorsi, who, ironically, was the general manager who made him the first overall pick of the Baltimore Colts in 1983, and subsequently traded him to the Broncos at the insistence of team owner Jim Irsay. Broncos president Joe Ellis suggested Elway give Accorsi a call. They had a few giggles over the history between them, but have struck up a nice relationship, with Accorsi advising him on the draft, on the hiring of John Fox and various front office philosophies.
Accorsi, interestingly, was also the man who gave Newsome his first front office job, and says Elway reminds him of Newsome. "John played 16 years with his eyes open," Accorsi said. "He learned every step of the way. Ozzie was just like that. John doesn't have all the answers. There is a humility about him, and a thirst for it. Some ex athletes get into it just because they want to stay in the game. I didn't get that impression with him. He is in it because he wants to be successful."
Elway also has sought out former Broncos general manager John Beake for advice. He wishes he could ask his father for advice, but Jack Elway, the former college coach and Broncos front office man, passed away ten years ago. "I think about that all the time," said. "To make this any more perfect would be to have my father involved. I thought about it so many times during the draft process. What would my dad think? That was one of his real innate things he was good at was the personnel side. I didn't get a chance to really pick his mind, why he saw this in a certain guy compared to what I see. That's the one thing I wish I could have done before he passed."
Elway thinks his 16 years under center have given him a feel for people management. "Having been a quarterback, it helped me knowing how much you have to rely on the guys around you," he said. "You are responsible for getting everybody going in the same direction. I did that in my career."
He did that in the April draft too. The Broncos' take, which included outside linebacker Von Miller and safety Rahim Moore, was almost universally rated a solid one by the experts. Elway decided not to draft a quarterback, but he looked hard at them. In fact, Accorsi advised him that the first thing a general manager should do is to take care of the quarterback position. But he also told him not to manufacture one.
Elway believes he has a good feel for evaluating quarterbacks in particular. He said he even thinks he can help coach them.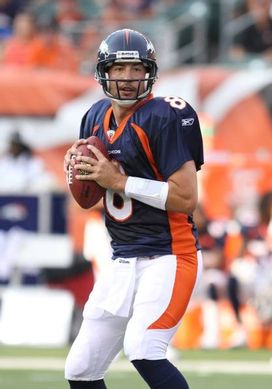 ICONElway will have to determine where Kyle Orton fits in with the Broncos.
"You look at our quarterback situation," Elway said. "Bottom line is we have three guys who can play. Kyle [Orton] has had good numbers, but we haven't won a lot of football games, that's the bottom line. That's a reflection of you as a quarterback whether you want it or not. I take it as a responsibility of that quarterback.
"Kyle is going to have a leg up because of the success he has had, but we want everybody to have a chance to compete for that job. When we go to camp, Kyle is going to be No. 1 on the depth chart when we go to camp. But [Tim] Tebow, as well as Brady Quinn, are going to have an opportunity to compete for that job."
Elway confirms that Quinn is very much in the mix. "I've seen him in Cleveland," he said. "For young quarterbacks to be successful, they have to have that supporting cast around them. The supporting cast in Cleveland wasn't what it will be here. I don't know that Brady has ever had that. I don't know that was given the opportunity to compete for the job when he came in last year. He's going to be given a chance to see what he can do."
Ultimately, Elway, like Quinn or Tebow, isn't going to be judged by how much experience he had going in. They all will be judged by results. "It all comes down to your success rate, the wins and losses," he said. "Over time, it will be proven out."
And if Elway can play in the front office anywhere near as well as he did on the field, it's not going to matter how he got to be in charge of the Broncos.
Things I Didn't Used To Know
*The Panthers used their tag on center Ryan Kalil instead of running back DeAngelo Williams, but that doesn't mean they don't want Williams, who will either be an unrestricted or restricted free agent. In fact, they believe Williams is their best running back and very much hope he returns. They like the depth they have at the position with Williams, Jonathan Stewart and Mike Goodson, and want to maintain it. The system of new offensive coordinator Rob Chudzinski calls for two backs to get a lot of action, so the team believes it needs more than two backs it can count on.
*The Browns thought long and hard about drafting a defensive end in the first round, and had a healthy debate about defensive end versus defensive tackle. The fact that they call the AFC North home helped convince them to take massive defensive tackle Phil Taylor instead of an end. They like the idea of pairing Taylor and Ahtyba Rubin against the Steelers and Ravens, power running teams that have controlled the division. They also hope being strong against the run will help them late in the year in cold weather games. It should be noted that new defensive coordinator Dick Jauron always has been a fan of big, physical defensive tackles.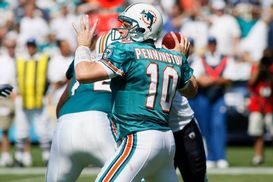 ICONIf Chad Pennington's knee is OK, he could make a good No. 2 quarterback.
*The lockout has been a friend to Chad Pennington. The veteran free agent quarterback tore his ACL in a pickup basketball game in March. In a normal year, that would have probably left Pennington without a job as a No. 2 quarterback. But as time goes on, the market appears to be heating up for Pennington. If Pennington's knee shows enough progress by the time free agency begins, and it looks like he will be ready for the start of the season, there will be significant interest in him. It doesn't hurt that he has already won the comeback player of the year award twice.
*Some teams have taken advantage of the lockout to do extra work on college free agents, putting in as much time on them as they normally would players they were interested in drafting. As a result, it is expected that more undrafteds than usual are going to have a nice payday. Teams are going to lock in on players and some will be willing to pay the price to get them. Then again, there may be a lot of have-nots as a result of the lockout too. Some teams will be unwilling to pay even small bonuses to players they feel have no chance of making their teams, and it's going to be more difficult than ever for college free agents to make teams this year without the benefit of an offseason.
*The Bears could be done adding starting caliber players to their offensive line. There still is a chance they could sign a free agent guard, but there also is a chance they will stick with the status quo. Roberto Garza is expected to start on the right side, and the team wants to give Chris Williams another chance as the left guard. They also have several developmental linemen they would like to see play, including Levi Horn, Herman Johnson, Lance Louis and Edwin Williams.
My Sunday Best: Coaching Trees
Working on this story for the Trib on Mike Ditka's unusual coaching tree got me thinking about the best coaching trees in the modern NFL. Here are my choices. Let me know if you disagree.
1. Bill Parcells tree. His tree doesn't have as many branches as some, but the quality of the branches is incredible. Parcells' protégés have won five Super Bowls (Bill Belichick three, Sean Payton one and Tom Coughlin one). I have an idea his tree is going to come up (and it should) when we sit down as a committee to discuss Parcells' worthiness for induction into the Pro Football Hall of Fame next January. Tony Sparano also is in his tree.
2. Bill Walsh tree. What's most remarkable about this tree is the second and third levels. Six assistants under Walsh became head coaches (Mike Holmgren, George Seifert, Denny Green, Jim Fassel, Jon Gruden and Sam Wyche), but a dozen men who worked for them became head coaches, and many more became head coaches who worked for them. The Walsh influence is everywhere in the NFL today even though not a single one of his assistants is a head coach in the league.
3. Marty Schottenheimer tree. The Bill Cowher branch of this tree has become a tree of its own. But others who became head coaches after working for Schottenheimer were Wade Phillips, Gunther Cunningham and Cam Cameron. And Tony Dungy, Mike McCarthy and Herm Edwards also once called Schottenheimer boss.
4. Mike Holmgren tree. He apparently learned how to develop head coaches from Walsh. Among his assistants in Green Bay who became head coaches were Andy Reid, Jon Gruden, Mike Sherman, Steve Mariucci, Dick Jauron and Marty Mornhinweg. His assistants in Seattle included future head coaches Jim Zorn and Jim Mora.
5. Tony Dungy tree. On Dungy's staff in Tampa Bay were Mike Tomlin, Lovie Smith, Rod Marinelli and Herm Edwards. Also in his tree is Colts coach Jim Caldwell.
6. Brian Billick tree. This tree has four current NFL coaches, tied with the Parcells tree for most in the league. Billick's four are Rex Ryan, Jack Del Rio, Marvin Lewis and Mike Smith. Also from this tree were Mike Nolan and Mike Singletary.
7. Bill Cowher tree. The Steeler way is worth emulating, and many have tried by hiring Cowher protégés. His branches include Ken Whisenhunt, Chan Gailey and Marvin Lewis. Former head coaches who worked for Cowher before getting their break include Mike Mularkey, Dom Capers and Jim Haslett.
Scout Talk: The Real Ryan Mallett
There are two Ryan Malletts floating around out there. The first is the one most people think he is. The second is the one the Patriots think he is.
The real Ryan Mallett is expected to stand up at some point over the next couple of seasons when the Patriots need him to fill in for Tom Brady. Who will it be?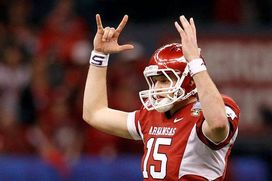 ICONWho is the real Ryan Mallett? The Patriots might know.
Some scouts will tell you it will be a strong armed passer who can't move. A player whose lack of athleticism is underscored by poor footwork. A cocky guy who likes to party and has a history of immaturity. A player who either admitted to using drugs or was addicted to them. A country bumpkin type. A hoodie wearing, football version of Eminem. The last kind of guy you would expect Bill Belichick to want leading his football team.
The Patriots scouts don't know what you those people were looking at. Their reports on Mallett, whom they chose in the third round of the draft, paint a completely different picture.
Mallett's character actually enhanced his stock with the Patriots. They don't think drugs or other substances are an issue. All that is on his record is one arrest for public intoxication outside a nightclub near the Arkansas campus. They don't blame him for transferring to Arkansas from Michigan after Rich Rodriguez came in, changed systems and all but showed him the door.
They see him as a player who was respected and liked by teammates at every stop. They point to the fact that he was voted team captain at Arkansas twice by teammates, including once when it wasn't even certain he would be the starter.
Want more? They believe he is a student of the game. They like the fact that his father is a coach, and Mallett has been around football his whole life. In their interviews and chalk talks with him, it became apparent he knew a lot more than just what he had been told to do. That comes from film study, extensive film study, and a capacity to absorb.
Physically, the Patriots liked what they saw too. They think he's a little like Drew Bledsoe, but thicker and stronger. They like the arm strength and accuracy. They like the fact that he has been very productive in Bobby Petrino's offense.
They aren't worried about his lack of mobility. They would prefer he could move like Michael Vick, mind you. But Matt Cassel couldn't move much better, and he's done alright.
See, it's very possible we all got it wrong on Ryan Mallett. And the Patriots got it right. Wouldn't be the first time.
One Man Yelp: Pirates of the Caribbean—On Stranger Tides
I've read a number of reviews panning the new Pirates movie, but this one, like the previous three in the series, worked just fine for me.
Ok, so the plot isn't exactly F. Scott Fitzgerald. It's basically a chase leading to a fight, leading to a chase, leading to a fight, leading to a chase, leading to a fight. But it gets you on the edge of your seat and makes you smile. Forgive me for being so simple.
The strength in this movie, as in the series, is the rich characters, especially Johnny Depp's Captain Jack Sparrow. On Stranger Tides is without Bill Nighy's Davey Jones, Orlando Bloom's Will Turner and Keira Knightley's Elizabeth Swann. But three new characters—the heinous Blackbeard, played by Ian McShane, Angelica, played by the lovely Penelope Cruz, and the puffy King George, play by Richard Griffiths, fill the void and give the movie a fresh jolt.
Angelica is a skeleton from Jack's closet, and also the daughter of Blackbeard. A tangled web ensues. As in the other Pirates movies, it's never completely clear who is with whom.
The scenery and set design is wonderful, though don't feel obliged to see it in 3-D if you have a choice. The extra dimension didn't add much.
Hot Reads
*What we've been hearing lately from supporters of Ken Anderson, including Cold Hard Football Facts, has me, as well as some other Hall of Fame voters, rethinking Anderson as a Hall of Fame nominee.
*The Super Bowl will not be won because a quarterback is throwing to three receivers against air on a high school football field in May.
*I don't care if Peyton Manning wants to keep the Colts' workouts hush-hush. He can even wear a Secret Squirrel decoder ring during practice if he wants.
*Too bad the Bucs won't be on Hard Knocks. We'll just have to watch Cops to see the same kind of action.
*I'm not sure what Raiders employees are complaining about. This is better than pulling weeds or cleaning toilets with toothbrushes, isn't it? It's also better than what Bengals quarterbacks coach Ken Zampese said his offseason has been like.
*Jeff Fisher, Tedi Bruschi and Chad Lewis figuratively may climb higher mountains in their lives, but they'll probably never have a more significant climb than the one they undertook last week. They made it to the top of Kilimanjaro to raise awareness for Wounded Warriors. Job well done, gentlemen.
Dan Pompei covers pro football for the Chicago Tribune at chicagotribune.com. Follow him at twitter@danpompei