NFP's Introduction to Scouting Class is now registering for our next session! Early bird pricing in effect until February 15th! Save $100 and REGISTER NOW!
Let's go around and league and talk Sunday football in the NFL. Breakdowns, matchups, plus the Xs and Os from the Week 13 schedule. Here are ten things you should be talking about today—starting with Rodgers' final drive to beat the Giants.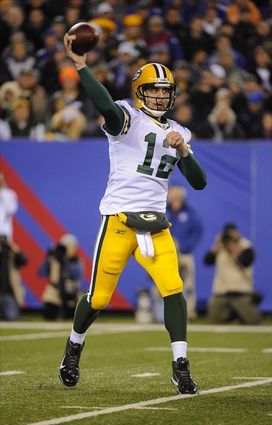 ICONRodgers made the throws on the final drive to set up a game winning FG as the Packers closed out the Giants.
1. 12-0 Packers: The way I see it, you have to win games like this to run the table in the NFL. The Packers weren't perfect in their execution and gave up some plays defensively vs. the Giants. But when they needed to close this game out, Rodgers (28-49-369-4 TDs-1 INT) moved this offense down the field in three plays: the out route to Finley, fade to Nelson and the quick option concept to Jennings. Bring the FG team on the field and get on the plane with a 12-0 record. And I still go back to the deep ball to Nelson, because his release (hard inside step to move the DB) created separation and provided a clean vertical stem up the field. Clinic tape right there vs. press-coverage and another example of the Champs making the key plays when it counts.
2. Saints game plan vs. Calvin Johnson: I wrote about this last week because I know how Saints' DC Gregg Williams game plans after spending time in his system during my career. He will make a point to take away a No.1 receiver with alignments, coverage and leverage. And that is exactly what we saw from the New Orleans defense in the 31-17 win over Detroit. The Saints played 2-man, Cover 2, Cover 7 (combination man) and aligned the FS almost is a deep half look over Johnson when they played man coverage. Even on the goal line, Williams aligned two (yes, two) DBs over C.J. in what looked like "jammers" playing vs. the "gunner" on punt coverage. Johnson finished with 69 yards on 6 receptions, but the key was the Saints' ability to take away game-changing plays with the Lions' WR.
3. Tebow, Broncos continue to win: After the Raiders were whipped down in Miami, we are talking about a Broncos team that is in first place in the AFC West. Look at the development of this offense and Tim Tebow (10-15-202-2 TD). More play action, vertical concepts and opportunities to generate explosive plays within the game plan. What starts all of that? Willis McGahee and the run game. The veteran continues to produce (20-111) and fits what the Broncos want to do from a play calling perspective. The bottom line here with John Fox's club is that they are getting production on both sides of the ball in crucial situations of the game. Big reason the Broncos are 6-1 with Tebow under center.
4. Steelers play like a legit AFC contender: After last week's 13-9 win over K.C., there were some questions about Pittsburgh, but on Sunday the Steelers won all three phases of the game as they blew out a good Bengals' team 35-7. We saw offensive production in the red zone, scoring in the return game and a defense that played like the top overall unit in the NFL. And I still want to focus on Roethlisberger, Mendenhall and Wallace inside of the 20-yard line, because that is the key to the Steelers making a run in January from my perspective. Score points, convert and allow your defense to play with a lead. That's a tough team to beat.
5. Trouble in Chicago: That's a bad loss for Lovie Smith's club. Poor execution on offense, penalties on special teams and a defense that couldn't generate a big play vs. Chiefs' QB Tyler Palko. But we know this discussion has to center on Caleb Hanie (11-24-133-3 INTs) and the QB play for the Bears, because it's not good enough to make a push for the post-season. I didn't see signs of improvement from Hanie and despite a couple of throws late (along with a Roy Williams' drop in the end zone), this team isn't going anywhere without some consistency from the QB position. Hanie's footwork is poor, he is still slow with his reads and there is no sense of a vertical route tree right now for the Bears' offense. And with RB Matt Forte now out with a knee injury (for at least a couple of weeks), there should be some real concern with the Bears. Up next for Chicago? A trip to Denver to play Tim Tebow.
CONTINUE TO PAGE 2 FOR THE REST OF MY WEEK 13 NFL NOTES…