NFP's Introduction to Scouting Class is now registering for our next session! Early bird pricing in effect until February 15th! Save $100 and REGISTER NOW!
Week 13 of the 2012 college football season is in the books, and the BCS national championship picture cleared up a bit on Saturday night as Notre Dame punched its ticket to South Beach.
It now appears that the Fighting Irish will play the winner of the SEC title game between Alabama and Georgia for the BCS national championship.
Let's take a look at how the National Football Post stacks up the Top 25 heading into the fourteenth week of the season.
2012 record in parentheses and last week's ranking in brackets.
1. Notre Dame (12-0) [1]
2. Ohio State (12-0) [2]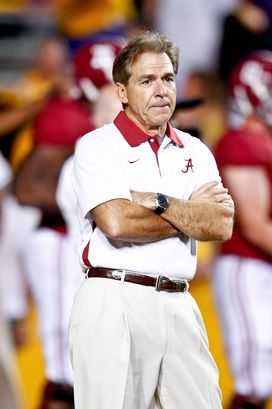 US PRESSWIRENick Saban and the Tide could find themselves back in the BCS title game.
3. Alabama (11-1) [3]
4. Oregon (11-1) [4]
5. Kansas State (10-1) [6]
6. Georgia (11-1) [7]
7. Florida (11-1) [8]
8. LSU (10-2) [10]
9. Stanford (10-2) [11]
10. Texas A&M (10-2) [12]
11. South Carolina (10-2) [13]
12. Florida State (10-2) [5]
CONTINUE TO PAGE 2 FOR NOS. 13-25