Week 10 of the 2013 college football season is in the books, and Florida State continued to make its claim for a shot at the BCS national championship.
The Seminoles pulled away from Miami (FL) on Saturday night, which should give them a temporary boost in the computers when the new BCS standings come out on Sunday night. But if all three teams remain undefeated, it appears that the 'Noles will still need a loss by Alabama or Oregon to play for a national title.
Let's take a look at how the National Football Post stacks up the Top 25 heading into the eleventh week of the season.
2013 record in parentheses and last week's ranking in brackets.
1. Alabama (8-0) [1]
2. Oregon (8-0) [2]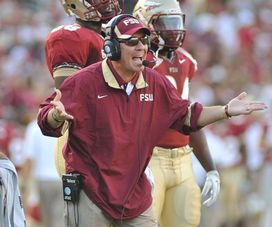 Will Jimbo Fisher's team get a chance to play for the BCS national championship?
3. Florida State (8-0) [3]
4. Ohio State (9-0) [4]
5. Baylor (7-0) [5]
6. Stanford (7-1) [6]
7. Auburn (8-1) [8]
8. Missouri (8-1) [9]
9. Clemson (8-1) [10]
10. Oklahoma (7-1) [11]
11. LSU (7-2) [12]
12. Texas A&M (7-2) [13]
13. Michigan State (8-1) [21]
14. South Carolina (7-2) [15]
15. Miami, FL (7-1) [7]
16. Northern Illinois (9-0) [16]
17. Central Florida (6-1) [17]
18. Oklahoma State (7-1) [24]
19. Louisville (7-1) [18]
20. Notre Dame (7-2) [20]
21. Wisconsin (6-2) [22]
22. Arizona State (6-2) [NR]
23. Texas Tech (7-2) [14]
24. UCLA (6-2) [23]
25. Fresno State (8-0) [25]
The next five: Michigan, Georgia, BYU, Ball State and Houston
Dave Miller, the college football editor and writer for the National Football Post, is on Twitter @Miller_Dave.
NFP's Introduction to Scouting Class is now registering for our Winter sessions! Save $200 if you register before December 1st! REGISTER NOW!
Check out our partners at TiqIQ for the best deals on all games on the 2014 NFL schedule.