17. (13) Minnesota Vikings (5-4): A.P. is going to produce, but the Vikings need Percy Harvin on the field to win games.
18. (23) New Orleans Saints (3-5): Good win last night for the Saints, but they won't see the Eagles O-Line every week.
19. (18) Dallas Cowboys (3-5): How much money do you think Jerry Jones will throw at Sean Payton this offseason?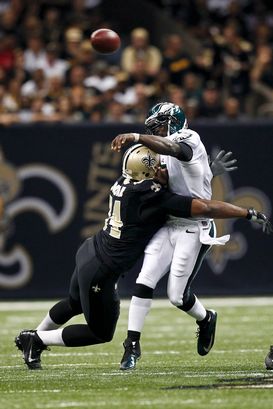 US PRESSWIREVick took a beating Monday night in the Eagles' loss to the Saints.
19. (15) Philadelphia Eagles (3-5): The Eagles need to string some wins together to save their season and Andy Reid's job.
21. (16) Washington Redskins (3-6): Is Mike Shanahan already looking ahead to the 2013 season?
22. (19) Cincinnati Bengals (3-5): Remember when the Bengals were a hot pick to make the playoffs in the preseason?
23. (20) Arizona Cardinals (4-5): Five straight losses for the Cards. What else can we say?
24. (24) New York Jets (3-5): Sanchez and the Jets have to head out to Seattle. That could be trouble.
25. (30) Carolina Panthers (2-6): It took eight weeks for Steve Smith to get in the end zone.
26. (25) St. Louis Rams (3-5): We think Fisher's club is on the right track—but it's not going to happen this season.
27. (27) Buffalo Bills (3-5): The Bills hung with the Texans for a while on Sunday, but they are going the wrong direction again.
28. (28) Oakland Raiders (3-5): The Raiders couldn't match the speed or ability of Tampa's Doug Martin in the open field.
29. (26) Tennessee Titans (3-6): That was an embarrassing loss to the Bears at home.
30. (29) Cleveland Browns (2-7): Are the Browns going to replace QB Brandon Weeden after just one season?
31. (31) Jacksonville Jaguars (1-7): The Jags need more talent. It's that simple.
32. (32) Kansas City Chiefs (1-7): Why not give Ricky Stanzi a shot at QB? #USA
Follow the NFP on Twitter: @FootballPost
NFP's Introduction to Scouting Class is now registering for our Winter sessions! Save $200 if you register before December 20th! REGISTER NOW!