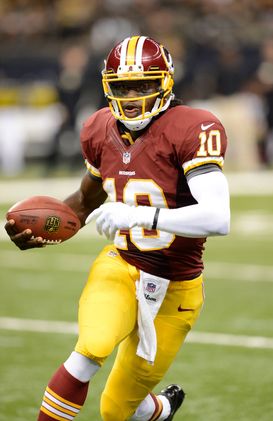 US PRESSWIREGriffin lived up the hype after lighting up the Saints' defense on Sunday.
17. (25) Washington Redskins (1-0): All that hype about RGIII? It's look legit after Week 1.
18. (11) Cincinnati Bengals (0-1): This might be too far of a drop for the Bengals, but after watching the Ravens run it up last night there is plenty of work to do in Cincy.
19. (15) Kansas City Chiefs: (0-1): We didn't expect the Chiefs to get beat up like that on the defensive side of the ball.
20. (24) Tampa Bay Buccaneers (1-0): We don't know what the win over Carolina tells us yet about Schiano's club, but this is a much more physical Bucs' team than we saw in 2011.
21. (20) Carolina Panthers (0-1): What happened to the running game?
22. (16) Buffalo Bills (0-1): Is it time to start second-guessing the contract the Bills handed over to QB Ryan Fitzpatrick?
23. (29) St. Louis Rams (0-1): With Finnegan and Jenkins at CB, the Rams could produce plenty of big plays in the secondary this season.
24. (22) Oakland Raiders (0-1): How many check downs did Carson Palmer throw last night in the loss to the Chargers?
25. (30) Minnesota Vikings (1-0): A.P. continues to impress us with his recovery from the knee injury in 2011.
26. (27) Arizona Cardinals (1-0): Maybe now the Cards can get the return on their investment with Kevin Kolb--who takes over for the injured John Skelton.
27. (18) Seattle Seahawks (0-1): This is a far fall for the Seahawks, but we aren't buying into Russell Wilson just yet.
28. (28) Jacksonville Jaguars (0-1): Blaine Gabbert played his best game as a pro—but that's a win the Jags needed to get in Minnesota.
29. (23) Tennessee Titans (0-1): You can't get 4-yards from Chris Johnson and expect to win football games.
30. (26) Indianapolis Colts (0-1): All eyes will be on Luck every time he steps on the field, but that Colts' defense could struggle all season.
31. (31) Miami Dolphins (0-1): Starting Tannehill is the right call in Miami, but don't expect a lot of wins this season for Joe Philbin.
32. (32) Cleveland Browns (0-1): If fans are calling for Colt McCoy to start then you are in trouble.
Follow the NFP on Twitter: @FootballPost