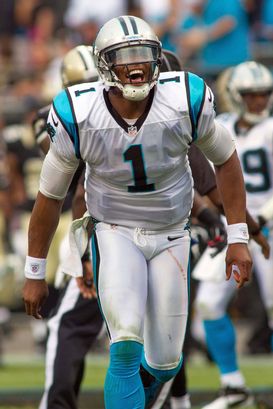 US PRESSWIRENewton and the Panthers got back to the run game in their win over the Saints.
17. (21) Carolina Panthers (1-1): The Panthers got back to the ground game to knock off the Saints.
18. (12) Dallas Cowboys (1-1): The Cowboys looked unprepared and soft in the loss to Seattle.
19. (17) Washington Redskins (1-1): The 'Skins dropped a game on the road in St. Louis, but we still like this offense with RG3 running the show.
20. (11) New Orleans Saints (0-2): This defense is New Orleans is really suspect right now.
21. (20) Tampa Bay Buccaneers (1-1): The Tampa secondary played big in the first half vs. the Giants, but they vanished when they had a shot to close out the game.
22. (15) New York Jets (1-1): How quickly the Week 1 offensive production of the Sanchez and the Jets is forgotten after the loss to Pittsburgh.
23. (23) St. Louis Rams (1-1): A note to the Bears: the ball is going to WR Danny Amendola when Sam Bradford drops back to pass this Sunday at Soldier Field.
24. (24) Buffalo Bills (1-1): C.J. Spiller is running like a first round pick.
25. (19) Kansas City Chiefs (0-2): Where's the defense? Two straight blowout losses for K.C.
26. (31) Miami Dolphins (1-1): The best thing for a rookie QB: the run game. Reggie Bush carried the load in the Dolphins win.
27. (24) Oakland Raiders (0-2): The Raiders are moving backwards—again.
28. (30) Indianapolis Colts (1-1): Andrew Luck is going to hook up with Reggie Wayne all season long in Indy.
29. (25) Minnesota Vikings (1-1): The Vikings could be in trouble vs. the rest of the NFC North.
30. (28) Jacksonville Jaguars (0-2): The Jags were exposed offensively in the loss to the Texans.
31. (29) Tennessee Titans (0-2): The Titans need some kind of production from Chris Johnson to compete.
32. (32) Cleveland Browns (0-2): The two rookies—Weeden and Richardson—put up some numbers, but it's still another loss for the Browns.
Follow the NFP on Twitter: @FootballPost