17. (23) Washington Redskins (2-2): RGIII threw for 300-plus (again), but we are looking at the two-minute drill he put together to set up the winning FG vs. the Bucs.
18. (10) Dallas Cowboys (2-2): There should be some heat on Garrett, Romo, Bryant and the rest of this Cowboys' club after the Monday night loss to the Bears.
19. (17) Detroit Lions (1-3): In the last two weeks, the Lions have given up 4 TDs on special teams. That's little league stuff.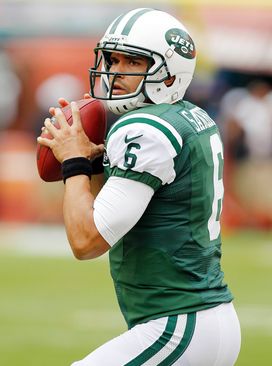 US PRESSWIRESanchez and the Jets host the Texans on Monday night. That could be trouble.
20. (18) New York Jets (2-2): Will Mark Sanchez last the entire game vs. the Texans this Monday night?
21. (28) St. Louis Rams (2-2): Don't sleep on the Rams' young defense. They can play.
22. (20) Buffalo Bills (2-2): Where was Mario Williams and the Bills D-Line in the second half on Sunday?
23. (25) Carolina Panthers (1-3): The Panthers have to close out wins instead of giving up big plays in crucial situations.
24. (21) Tampa Bay Buccaneers (1-3): Wasn't QB Josh Freeman supposed to bounce back this season?
25. (29) Miami Dolphins (1-3): Rookie Ryan Tannehill lit up the Cards' secondary on Sunday in the OT loss.
26. (20) New Orleans Saints (0-4): Drew Brees came to play at Lambeau, but its still another loss for the Saints.
27. (22) Oakland Raiders (1-3): How did the Raiders knock off the Steelers in Week 3?
28. (27) Kansas City Chiefs (1-3): The Chiefs played like a last place team (turning the ball over all afternoon) in the loss to the Chargers.
29. (27) Tennessee Titans (1-3): How many more times will RB Chris Johnson point his finger at the O-Line in Tennessee?
30. (30) Jacksonville Jaguars (1-3): It doesn't get any easier for Blaine Gabbert with the Bears' defense coming to town on Sunday.
31. (31) Indianapolis Colts (1-2): Tough to think about football with the absence of head coach Chuck Pagano in Indy right now.
32. (32) Cleveland Browns (0-4): Up next for the winless Browns: a trip east to play the Giants and a possible 0-5 start.
Follow the NFP on Twitter: @FootballPost
NFP's Introduction to Scouting Class is now registering for our Winter sessions! Save $200 if you register before December 20th! REGISTER NOW!