17. (12) Cincinnati Bengals (3-2): The Bengals face another rookie QB in Brandon Weeden this Sunday.
18. (17) Washington Redskins (2-3): Defenders will continue to take shots at RGIII if he doesn't get down in the open field.
19. (18) Dallas Cowboys (2-2): Tony Romo and the Cowboys come off the bye with a trip to Baltimore on the schedule.
20. (19) Detroit Lions (1-3): Did the Lions make any adjustments to their special teams during the bye week?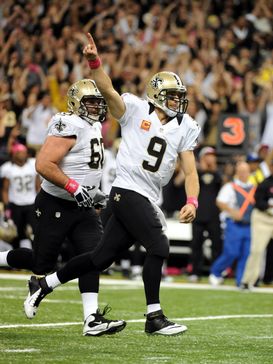 US PRESSWIREDrew Brees put on a show Sunday night vs. the Chargers in the Saints' first win of the season.
21. (26) New Orleans Saints (1-4): Sunday night was all about Drew Brees on the national stage in the Saints' first win of the season.
22. (25) Miami Dolphins (2-3): Rookie QB Tannehill is developing at a much quicker rate than any of us expected.
23. (31) Indianapolis Colts (2-2): Impressive comeback win over the Packers for Andrew Luck, Reggie Wayne and the entire Colts' organization without head coach Chuck Pagano.
24. (20) New York Jets (2-3): The Jets are resorting to "gadget" plays and CBs running fade routes on offense. That's no good.
25. (23) Carolina Panthers (1-4): Cam Newton is taking the fall for the Panthers, but there are multiple issues with this squad.
26. (24) Tampa Bay Buccaneers (1-3): Expect the heat to come down hard on Schiano if the Bucs drop one this weekend to K.C.
27. (22) Buffalo Bills (2-3): Far too much money invested in a D-Line that doesn't make impact plays.
28. (27) Oakland Raiders (1-3): The Raiders and Carson Palmer could be looking at a 1-4 start with a trip to Atlanta this Sunday.
29. (28) Kansas City Chiefs (1-4): Can it get worse in K.C. after this horrendous start to the season?
30. (29) Tennessee Titans (1-4): Another poor outing for Chris Johnson. That seems to be the standard this season in Tennessee.
31. (30) Jacksonville Jaguars (1-4): Are the Jags already looking at tape of West Virginia QB Geno Smith?
32. (32) Cleveland Browns (0-5): The Browns jumped out to a 14-0 lead in New York and then laid down on their way to an 0-5 start.
Follow the NFP on Twitter: @FootballPost