17. (18) Miami Dolphins (3-3): Can Ryan Tannehill continue to play at a high level on the road in New York vs. the Jets?
18. (19) New York Jets (3-4): Tony Sparano needs to put the "Tebow Package" on the shelf and let Mark Sanchez run this offense.
19. (21) Dallas Cowboys (3-3): Losing LB Sean Lee is a major blow to Rob Ryan's defense in Dallas.
20. (16) Detroit Lions (2-4): There is no excuse for the Lions' red zone turnovers on Monday night in Chicago.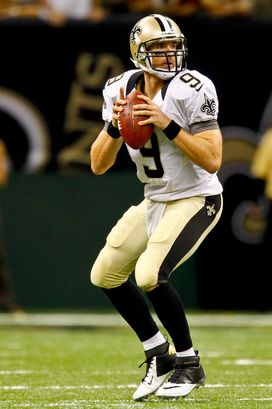 US PRESSWIREDrew Brees will need some help from his defense to get back in the NFC mix.
21. (23) New Orleans Saints (2-4): Brees is going to put up numbers, but can the Saints' defense get this team back in the NFC discussion?
22. (24) Cincinnati Bengals (3-4): Why didn't the Bengals target A.J. Green down the field on Sunday night?
23. (20) St. Louis Rams (3-4): Another test for this Rams' defense vs. Brady and the Pats in London.
24. (25) Tennessee Titans (3-4): Chris Johnson ran for 195-yards in the Titans' win. Where was that earlier in the season?
25. (27) Indianapolis Colts (3-3): At 3-3, Andrew Luck and the Colts are still hanging around.
26. (26) Tampa Bay Buccaneers (2-4): The Bucs college scouting department should be watching tape of CBs.
27. (22) Buffalo Bills (3-4): One week after playing good football in Arizona, the Bills' defense struggled again.
28. (29) Oakland Raiders (2-4): The Raiders came back to the beat the Jags in a game that was hard to watch.
29. (29) Carolina Panthers (1-5): The GM is out. Who's next in Carolina?
30. (30) Cleveland Browns (1-6): Josh Gordon needs to make that grab in the end zone.
31. (31) Kansas City Chiefs (1-5): Brady Quinn was named the starter in Kansas City. That's no good.
32. (32) Jacksonville Jaguars (1-5): The Jags were already at the bottom of our list and losing Maurice Jones-Drew isn't going to change that.
Follow the NFP on Twitter: @FootballPost