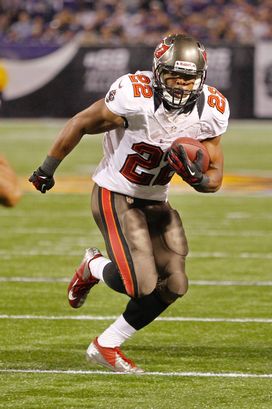 US PRESSWIREDoug Martin ran all over the Vikings in the Bucs' Thursday night win.
17. (26) Tampa Bay Buccaneers (3-4): Doug Martin put his skill set on display for a national audience in the win over the Vikings.
18. (19) Dallas Cowboys (3-4): Turnovers, coaching decisions, etc. They are wasting talent in Dallas.
19. (22) Cincinnati Bengals (3-4): The Bengals get Manning and the Broncos coming off the bye week.
20. (15) Arizona Cardinals (4-4): Remember when the Cards were 4-0?
21. (25) Indianapolis Colts (4-3): Yes, the Colts are "rebuilding," but they are also winning games.
22. (16) San Diego Chargers (3-4): How bad was that loss in Cleveland? Six points from Norv Turner's offense?
23. (20) New Orleans Saints (2-5): The Saints' secondary continues to give up big plays.
24. (18) New York Jets (3-5): Is Sanchez a problem for the Jets? Sure—but it goes much deeper for Rex Ryan's club.
25. (23) St. Louis Rams (3-5): The Rams need production from their defense to hang in games and they didn't get that vs. New England.
26. (24) Tennessee Titans (3-5): Chris Johnson has been producing on the ground…now let' see him do it vs. the Bears' front seven.
27. (27) Buffalo Bills (3-4): Did the Bills make any defensive adjustments over the bye week?
28. (28) Oakland Raiders (3-4): The Raiders beat the Jags and the Chiefs the last two weeks…let's not overreact here.
29. (30) Cleveland Browns (2-6): 124-yards and a score for Richardson in the 7-6 win over the Bolts.
30. (29) Carolina Panthers (1-6): The Panthers outplayed the Bears, but you have to close out games in this league.
31. (32) Jacksonville Jaguars (1-6): The Jags hung with the Packers for a while up at Lambeau—but that doesn't count in the standings.
32. (31) Kansas City Chiefs (1-6): Jamal Charles? Might be a good idea to give him the ball this week.
Follow the NFP on Twitter: @FootballPost
NFP's Introduction to Scouting Class is now registering for our Winter sessions! Save $200 if you register before December 20th! REGISTER NOW!