Want to win some cash playing fantasy football? Then sign up for the Week 5 NFP/FanDuel Fantasy challenge and compete with the NFP's Matt Bowen for a shot at winning part of the $1,000 dollar prize pool.
You can select up to three teams in this week's challenge, so start scouting the matchups and load up your squad with talent.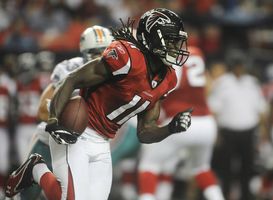 Bowen likes the matchup of Julio Jones vs. the Redskins' secondary.
Let's take a look at the roster Bowen is rolling with this week:
QB: Philip Rivers, Chargers
RB: LeSean McCoy, Eagles
RB: Marshawn Lynch, Seahawks
WR: Julio Jones, Falcons
WR: Marques Colston, Saints
WR: Torrey Smith, Ravens
TE: Antonio Gates, Chargers
Defense: Seahawks
K: Robbie Gould, Bears
Click here to sign up for the NFP/FanDuel Fantasy Challenge and start winning some cash…
Follow the NFP on Twitter: @FootballPost
NFP's Introduction to Scouting Class is now registering for our Winter sessions! Save $200 if you register before December 20th! REGISTER NOW!