NFP's Introduction to Scouting Class is now registering for our next session! Early bird pricing in effect until February 15th! Save $100 and REGISTER NOW!
With kickoff to the 2014 regular season right around the corner, I thought it might be interesting for people to get an idea of the highest paid veteran players at each position, the way the professionals in the industry look at it. This list does not include players still on rookie contracts (i.e. Ndamukong Suh). This is the list of top paid veterans by new money average per year. New money is an industry standard that allows teams and agents to compare players somewhat equally to players who sign free agent contracts.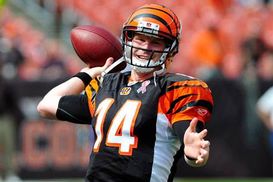 Dalton's new money average comes out to $16 million per season.
A quick lesson on new money average: If Bengals quarterback Andy Dalton is under contract for 2014 for $986,000 and then signs an extension on August 4, 2014, for a total contract of seven years and $96,986,000, you would reduce the total amount by $986,000, thus leaving $96,000,000. You would then take one year off the seven-year contract because if Dalton did not sign a new contract he would still be playing the 2014 season for $986,000. Thus, the new contract would be six new years for $96,000,000 ($96,000,000/6 = $16,000,000 per year).
There is ultimately a subjective part to the equation. For example, Chiefs running back Jamaal Charles signed a deal recently that added two more years to his current contract. Strictly looking at his new money average, Charles would be the second-highest paid running back in the league at $9.05 million (roughly an additional $18 million was added for the two new years). However, the total value of the deal is $28 million for four total years, thus a $7 million per year total contract value. In a negotiation, both positions would likely be looked at because the deal was done in some shape to address Charles' current contract situation which resulted in a short hold out from this year's training camp.
With that in mind, I have listed the top three highest paid veterans at each offensive and defensive position.
Quarterback
1. Aaron Rodgers, Green Bay Packers: $22.1 million
2. Matt Ryan, Atlanta Falcons: $20.75 million
3. Joe Flacco, Baltimore Ravens: $20.1 million
Running Back
1. Adrian Peterson, Minnesota Vikings: $14.2 million
2. Jamaal Charles, Kansas City Chiefs: $9.05 million
3. LeSean McCoy, Philadelphia Eagles: $9.0 million
Wide Receiver
1. Calvin Johnson, Detroit Lions: $16.2 million
2. Larry Fitzgerald, Arizona Cardinals: $16.1 million
3. Mike Wallace, Miami Dolphins: $12.0 million
Tight End
1. Jimmy Graham, New Orleans Saints: $10.0 million
2. Rob Gronkowski, New England Patriots: $9.0 million
3. Jason Witten, Dallas Cowboys: $7.4 million
Tackle
1. Tyron Smith, Dallas Cowboys: $12.2 million
2. Joe Thomas, Cleveland Browns: $11.5 million
3. Ryan Clady, Denver Broncos: $10.5 million
Guard
1. Logan Mankins, New England Patriots: $8.5 million
2. Jahri Evans, New Orleans Saints: $8.1 million
3. Andy Levitre, Tennessee Titans: $7.8 million
Center
1. Maurkice Pouncey, Pittsburgh Steelers: $8.8 million
2. Alex Mack, Cleveland Browns: $8.4 million
3. Ryan Kalil, Carolina Panthers: $7.8 million
Defensive End/3-4 OLB
1. Mario Williams, Buffalo Bills: $16.0 million
2. Clay Matthews, Green Bay Packers: $13.2 million
3. Charles Johnson, Carolina Panthers: $12.7 million
Defensive Tackle
1. Haloti Ngata, Baltimore Ravens: $12.13 million
2. Geno Atkins, Cincinnati Bengals: $10.65 million
3. Ahtyba Rubin, Cleveland Browns: $8.8 million
Linebacker
1. Patrick Willis, San Francisco 49ers: $10.0 million
2. Jerod Mayo, New England Patriots: $9.70 million
3. Lawrence Timmons, Pittsburgh Steelers: $9.56 million
Cornerback
1. Patrick Peterson, Arizona Cardinals: $14.01 million
2. Richard Sherman, Seattle Seahawks: $14.00 million
3. Joe Haden, Cleveland Browns: $13.50 million
Safety
1. Earl Thomas, Seattle Seahawks: $10.0 million
2. *Troy Polamalu, Pittsburgh Steelers: $9.87 million
3. Jarius Byrd, New Orleans Saints: $8.75 million
*For purposes of this article we did not include the most recent extension that Troy Polamalu signed in March of this year, which kept the cash for this year the same but added future years.
Follow Ari on Twitter: @AriNissim
Ari Nissim worked with the New York Jets from 2006 through 2013, six as Director of Football Administration; In addition he interned at the NFL League office and worked at Athletic Resource Management Sports Agency, and currently teaches in the NYU Sports Management Program.