NFP's Introduction to Scouting Class is now registering for our next session! Early bird pricing in effect until February 15th! Save $100 and REGISTER NOW!
The television coverage of Thursday night's first round was terrific. I rode with ESPN because I always get a kick out of listening to Mel Kiper. But maybe that's just me.
What made the coverage so much better this year was that ESPN followed Roger Goodell's mandate and didn't tip the picks like they have in the past. There was an uproar on the internet this past week regarding Goodell's decision to have a hand in the coverage of the annual selection show. Reporters should be allowed to report, some said. Stay off twitter if you don't want to know, cried others.
For me, I enjoy the suspense. I'm all for breaking news and getting my information in the fastest way possible, but I don't watch the draft because I'm interested in which reporter can break the pick six seconds before the selection.
Yes, I wanted up-to-the-second coverage on the Boston terrorist suspects last week. No, I don't give a damn about finding out who the New York Giants will select at No. 19 four seconds before Goodell makes the announcement.
Geno slides...and slides…and slides
West Virginia quarterback Geno Smith took a calculated risk when he accepted the National Football League's invitation to attend the 2013 draft in person. Smith knew he was projected to go as early as the top-five, but also had to be keenly aware that many were suggesting a potential Thursday night skid. And after plummeting through the first round like mexican food through the lower intestine, hindsight suggests Smith should have stayed away from New York like Notre Dame linebacker Manti Te'o.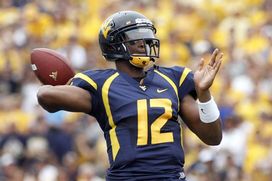 Geno Smith will hear his name called on Friday...and then can put his frustration to good use.
It was uncomfortable to watch. Here was a 22-year-old kid on what should have been the most exciting night of his life sitting at a table, talking to nobody, with his eyes fixated on the floor beneath his feet. The call he so desperately yearned for never came.
At the conclusion of the first round still in need of a team to call his own, Smith told ESPN's Suzy Kolber that he would not return to Radio City Music Hall for the second round of the draft.
Here's how Pro Football Talk's Mike Florio interpreted the situation:
"If Smith doesn't return, he'll be confirming in the minds of many that he can't show grit and resolve under pressure. That he'll sink his head and slump his shoulders when the team is 14 points behind in the third quarter. That he'll pout if he's not the starter or if he gets benched. That he'll complain about the use of too many running plays when he prefers to air it out."
All I saw was a disappointed 22-year-old who decided—at the time—that he would be better off back home than in New York. Smith gave the Big Apple a shot and it didn't work out the way he had hoped. So be it. Head home and regroup.
If Smith's decision to leave New York suggests that the West Virginia product "can't show grit and resolve under pressure," then we might as well take wide receiver Cordarrelle Patterson's decision to wear a white tuxedo jacket as a sign that the former Tennessee Volunteer is a me-first attention whore who will put the needs of himself ahead of those of his team.
Smith took zero snaps from center on Thursday night. His decision—at the time—to leave New York means nothing.
Slowly but surely
The Oakland Raiders entered Thursday night's festivities riding a 10-year streak of campaigns in which the organization failed to produce a winning record. General manager Reggie McKenzie has been working diligently to get the Silver & Black out from under the salary cap nightmare he inherited when joining the organization in 2012. But it isn't easy to rebuild a once-proud franchise with limited draft picks.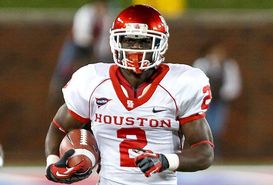 The Raiders got the player they wanted for less than it would have cost at No. 3.
The Raiders hit the clock with the third-overall selection on Thursday evening knowing they wouldn't draft again until the fourth pick in the third round (No. 66 overall). So McKenzie traded back from No. 3 to No. 12 with the Miami Dolphins in order to acquire a second-round pick (No. 42 overall) and STILL came away with the player he was after in Houston cornerback D.J. Hayden.
Oakland now has one of the draft's top cornerback prospects on their roster and they got him for less than it would have cost with the third-overall selection. The team also has a second round pick to aid in the rebuilding process.
I loved this deal. The Raiders know they aren't going to compete for the Super Bowl this season and thanks to the organization's realistic approach, Oakland is piece-by-piece making themselves better each day.
Be patient, Raider Nation. This long-term investment will pay off.
On the flip side…
…of that aforementioned trade stands the Miami Dolphins, who acquired Oregon defensive end Dion Jordan with the third selection in the draft. I'm all for being aggressive when it comes to making your team better, but here's what I found amusing in the aftermath of Miami's deal with Oakland.
"There's nothing better than when you get … [the] guy who you really loved," Ross said. "It's a great day. The value of the kid, with as little as they had to [give up] for him … is incredible."
That's a quote from Dolphins owner Stephen Ross to Adam Beasley of the Miami Herald regarding Dion Jordan.
Ross clearly feels that his organization got the better of the Raiders on Thursday night.
I'd advise a slight pumping of the breaks. The Dolphins haven't gotten the better of anybody in over two decades.
Manti Te'o
The Minnesota Vikings were supposed to be in love with Manti Te'o. The organization had (and still has) a pressing need for an inside linebacker and had wined and dined the Notre Dame standout during the pre-draft process.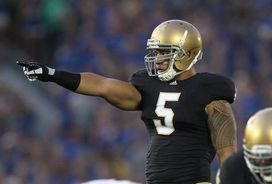 Manti Te'o is still waiting.
Turns out Minnesota loved Te'o so much that the team passed on the linebacker three different times during the first round.
What does that tell you?
It tells us the same thing that Buffalo Bills head coach Doug Marrone passing on Ryan Nassib—who he coached at Syracuse—for E.J. Manuel tells us.
Neither team liked either player all that much.
Speaking of E.J. Manuel…
How many teams do you think were caught off guard when the Bills pulled the trigger on the Florida State passer with the 16th selection? Buffalo fans may decry the pick, but I'd be willing to bet that at least three NFL front offices were hoping to land Manuel at the beginning of the second round.
The Bills got their man, but this is the type of pick that will forever define the current regime in Buffalo. Win with Manuel and everyone is safe. Lose and you'll be looking for another job.
Fantastic
Hit me up on Twitter: @JoeFortenbaugh