Mickey Loomis and Sean Payton are indebted to Jonathan Vilma.
On Saturday night in Canton, Sean Payton and Mickey Loomis listened to Cortez Kennedy talk about life after football. They heard Kennedy praise Mickey Loomis. And the Saints General manager deserves praise. Cortez Kennedy's value to Loomis extended beyond Kennedy's ability to rush the passer. Loomis rewarded Kennedy's impact on the Seahawks organization by adding Kennedy to the Saints staff.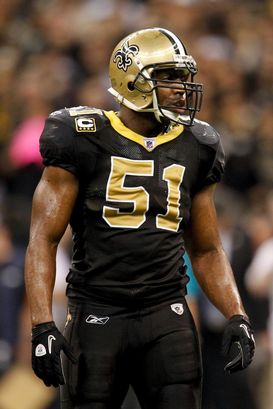 US PRESSWIRESaints LB Jonathan Vilma.
I know, from vast experience, that once you've been a football player, some folks have trouble seeing you as anything else. But the Saints gave Kennedy a position, a purpose, and a salary.
When the time comes, the same should be done for Jonathan Vilma.
This season, Sean Payton will become a martyr. Jonathan Vilma will get a year older. Payton will become legend. And Vilma will turn 31. There's a brotherhood in place in the NFL. It consists of men who look out for one another. Not so much the players, though. On the field and off the field it's every man for himself. But if you're a decision-maker—especially one who's won a ring in a place where no one said a ring could be won—you have the respect of other decision-makers. Sean Payton will be absolved of all wrongdoing. He'll return to the sideline, lighter in the pocket, but heavy on vengeance.
But what shall become of Jonathan Vilma?
He'll be a year older, a step slower, covered in rust. What if his career is over? Will anyone remember that Vilma did for the Saints what Bob Sanders did for the Indianapolis Colts in 2006? Will anyone remember that it was Vilma who brought to New Orleans that missing patina of disciplined nasty? Will anyone remember what happened with ten minutes left in the Super Bowl? How, with the Saints trailing by a point, Vilma went forty yards downfield, got underneath Colts receiver Austin Collie and stopped a touchdown?
Vilma has a damaged knee, a gripe with the commissioner, and time on his hands. But legal action isn't the way to go. That will only cement his status as an outcast. Vilma has a point, though. His reputation is being tarnished, not by his role in the bounty system, but by his sentence. A year-long exile suggests something more insidious than it is.
Oh, about that bounty system. It's in poor taste. That's the worst thing I can say about it. Every time you hit someone you do it as hard as you possibly can. If the one you hit doesn't get up? That's the inherent risk of the trade. Besides, most career ending injuries occur below the waist. Now if you show me tape of Saints players purposely targeting knees with the intent to permanently cripple, then I'll reconsider my take.
In the meantime, Vilma's good name has indeed been sullied. Sean Payton can change that. Sure, Vilma has Drew Brees in his corner, and Mickey Loomis has hiring power, but a big old ringing endorsement from his coach will carry the most weight. Whether he plays this year or next, either in New Orleans or somewhere else, Vilma will need Payton's testimonial. In the end game, all any of us has is our reputation. Vilma's rep should hang on one picture: hovering around the A-gap, his neck craned to pick up an audible in order to counter with his own.
I suppose it doesn't matter who remembers everything Vilma has done. So long as Sean Payton doesn't forget.
Alan Grant is a new regular contributor to National Football Post. He graduated from Stanford University in 1990 with a degree in English Literature. He was a four-year starter for the Cardinal, and all Pac-10 in 1987. Grant played five years in the National Football League with the Indianapolis Colts, San Francisco Forty Niners, Cincinnati Bengals, and Washington Redskins. He has writen for ESPN the Magazine, The Post Game, and NFL Magazine, and has appeared extensively on radio and television.?