NFP's Introduction to Scouting Class is now registering for our next session! Early bird pricing in effect until February 15th! Save $100 and REGISTER NOW!
As the fun and games of the NFL season has begun, this 2010 season commences with an ominous undercurrent of labor unrest. Although there will be no interruptions in NFL programming through Super Bowl XLV in Dallas, after that all bets are off.
The labor situation is starting to bubble up more and more among the media and even fan discussions. There were a couple of stories this week beyond the union's initial attempt at decertification that deserve mention.
Mawae goodbye
The reigning president of the NFL Players Association, Kevin Mawae, has retired. Or, to put it more realistically, the NFL retired him. The sound he heard from 32 NFL teams over the last seven months – including from his incumbent team the Titans -- was deafening silence.
Mawae has been vocal in his role as NFLPA president, most notably echoing NFLPA Executive Director DeMaurice Smith's dismay that the owners will not open their books to support their claim of financial hardship. Mawae's response to the Packers' financial statement fell in line, noting the union now had "1/32nd of the information requested."
The elephant in the room regarding Mawae is whether the unresponsiveness from NFL teams is due to his stewardship for the union. If pressed on this, every team would say of the eight-time Pro Bowler something like "We like Kevin but we are (a) looking to go younger at center or (b) happy with what we have." Of course, no team would mention labor publicly, but inside NFL personnel offices it was likely discussed.
Mawae will continue to serve as president through his term ending March 2012. Along with the Ravens' Domonique Foxworth, Smith's young lieutenant being groomed for future leadership now on injured reserve with the Ravens, these two union leaders will have time on their hands and put it to use on behalf of all NFL players.
Solidarity spin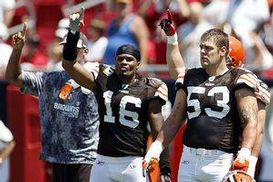 apBrowns were one of teams with solidarity gesture.
The gesture of solidarity by NFL players that began with the Vikings and Saints with players lifting their index finger in unison – and followed by teams in games this weekend – is another strategic negotiating play in the ongoing dormant collective bargaining negotiations with the NFL.
The gesture itself is relatively innocuous (although more effective if supported unanimously around the league). The organizers, however, knew it would receive national attention to the union's mantra that they are united.
Indeed, the union's kickoff message to "from all NFL Players to our fans" contains, in part, the following text:
As we face an uncertain future and the threat of being locked out of the game we love and rely on to provide for our families, we make to you this solemn promise:
To the Players who have come before us, to the stadium workers, officers, businesses and everyone who gets their hands dirty working for this game;To everyone who loves this game and lives as we do for kickoff;And to the few who stand against us;The Players and fans will STAND AS ONE.
Like the solidarity gesture, this is a self-serving message that aside from for the "few who stand against us" – presumably the 32 NFL teams and their management – the world supports them.
The NFLPA – leaning heavily on its communications counsel -- is following a basic principle of publicity: perception can become reality. The union is seeking the hearts and minds of its fan base, as well as the media, in its message. And its message will continue to be the following:
(1) The NFL is an $8.5 billion business yet ownership maintains it is having sustainability issues;
(2) The NFL refuses -- in this age of financial transparency -- to share the teams' financial information to prove its claim; and
(3) The NFL is prepared – by its actions – to lock out the players in 2011 in order to forge a new economic system, as the NHL did in 2004.
NFLPA chief DeMaurice Smith is a skilled orator adept at selling a message. He proved this in securing the job as an unknown with a PowerPoint that wowed players and referenced contacts up to and including President Obama.
Smith is shaping another message now: that players want to play in 2011 and if there is no football, it will be the NFL's fault, not theirs. We will continue to see that message, along with its ancillary parts such as the solidarity finger gesture, throughout the season.
Follow me on Twitter at adbrandt.
Click here to purchase the NFP Fantasy Total Access Pass