NFP's Introduction to Scouting Class is now registering for our next session! Early bird pricing in effect until February 15th! Save $100 and REGISTER NOW!
Let's run through some notes from Friday night's Eagles-Bengals game….
QB Kevin Kolb's overall game has been solid at this point of the preseason, but what impressed me last night was his ability to throw on the move. The Eagles' QB always has his eyes down the field and has no issues setting his feet, squaring his shoulders to the line of scrimmage and throwing a catchable ball. This is what you want to see from your QB when he leaves the pocket. Keep the play alive and create time for your receivers to convert their routes up the field.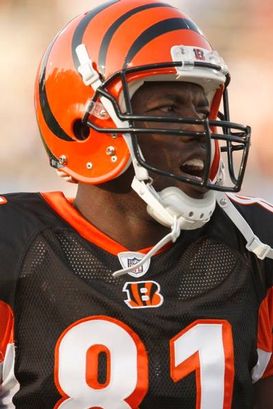 ICONT.O. continues to look impressive for the Bengals this preseason.
Solid night for Terrell Owens and a good sign of what we are going to see with the WR in this system. Cincy will run stack looks and align all of their receivers inside of the numbers to create separation through crossing routes. This allows T.O. to catch the ball underneath while running away from the defenders leverage and open field to work with. Owens has been very active in the first three preseason games for the Bengals and should catch a lot of balls in this scheme as the receiver opposite Chad Ochocinco. The deep ball? Let's not get too excited. Eagles CB Joselio Hanson missed on the jam, and when any No.1 or No. 2 wide out in the NFL gets a clean release off of the line of scrimmage on a "9" route (Go route), they should make a play. However, from the Bengals standpoint, you still like that vertical speed with Owens.
Philly FS Nate Allen can be a player as a rookie. He has great range from the middle of the field and will be able to blitz off of the edge in the Eagles' pressure packages. Plus, as he showed last night, he can come up, support the run and make a hit on the ball carrier. Speed and athletic ability. His cover skills will be tested in the regular season, but at this point in August you like what you see.
Watching Ochocinco run the deep 15-yard dig provides some great coaching points. This route requires the WR to take a hard inside release, stem his route up the field and then break between 12-15 yards. But Ochocinco runs the route at full speed. He doesn't waste time or take any false steps in his cut. Because of that, he can keep the defender on his back and create even more separation as he breaks his route back to the middle of the field. Fun to watch and very tough to defend for a CB playing with outside leverage.
The Eagles in the red zone haven't changed since I was playing. Classic west coast team under Andy Reid that sticks to the basics. The Spot route (7-Curl-Flat). Hi-Lo crossers (underneath crosser, 10-yard dig). Option routes on third down. Reid's offense will align in a variety of formations to window dress the routes, but when they start to unfold they are still the same as they were in 2003 in the NFC East.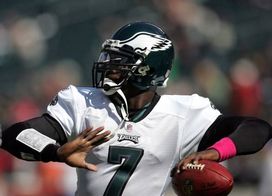 ICONVick has produced four turnovers in two preseason games.
Plenty of talk on Michael Vick when it comes to running the football and making a play in the open field, but when he is in the pocket are we impressed? The issue with Vick is always going to be his desire to tuck the ball and run. Just like we discussed above with Kolb keeping his eyes down the field, Vick is the complete opposite. He looks to run, and while that is going to be a part of the offensive packages he has role in during the regular season, it doesn't translate when he has to set his feet in the pocket and make a throw. Plus, we have to mention the turnovers. That is four for Vick in two preseason games. Not good enough.
A quick coaching point in last night's game. After the big hit on Ochocinco that resulted in a INT, the Eagles and Kolb went downfield on the next play running the "Speedo" route—a deep post, deep crosser combo. After a turnover, with the ball between the 40's, you have to expect the vertical passing game as a defensive player. NFL coaches call it a "sudden change."
Quick hits…
Bengals' OT Andre Smith has a long way to go. He plays flat-footed at times, is extremely slow in pass protection and is noticeably out of shape.
Pacman Jones still looks like a player when it comes to special teams. Hard not to notice his ability to cut back in the return game. He will have to play a role in the Bengals' defensive sub packages, but in the kicking game he stands out.
Follow me on Twitter: MattBowen41
Click here to purchase the Total Access Pass/ Fantasy Draft Guide from the NFP and receive a free Deuce Brand watch while supplies last.