NFP's Introduction to Scouting Class is now registering for our next session! Early bird pricing in effect until February 15th! Save $100 and REGISTER NOW!
Some thoughts from the dark waiting for the return of the electricity that Irene took from me and millions of others...
Labor reduction
Tomorrow if the first official roster cutdown, although teams have already started telling players "they are going in a different direction." From a front office point of view, I always hated this time of year. Perhaps it was the former player agent in me, as colleagues in front offices around the league simply saw this time as a necessary part of the job. I just had a hard time telling these kids -- and most of them are kids -- that they could no longer be part of the team despite their best efforts. And, although this offseason was an anomaly due to the lockout, the majority of the players released are usually those around the facility all spring and summer, participating in every workout, doing everything the team asked, etc.
By this time next week, the NFL will have reduced its labor force from around 2800 to about 1900 players, a 35% decrease in the labor force to be done by Labor Day. There is no time of the year where the harshness of the business of football is more apparent.
The deepest cut of all
Having shown my sympathy to players above, here's one for the management side. I often hear the following retort when players ask for an upgrade to their existing contact: "Well, teams can just cut the player. That's not fair." Fair? Perhaps not, but the time to address that inequity has now passed for at least ten years.
NFL players have two agents: their individual agent negotiating individual contract terms and their collective agent, the NFL Players Association. The NFLPA either did not address or was unsuccessful in addressing the fact that players can be released with no money due (assuming no further guaranteed money). I thought that one of the things the union could have pursued for players was the requirement that if players were released following a certain date on the calendar -- say the start of training camp -- that they would be entitled to a percentage of their contract, even without any guarantees.
When an agent and/or player says to me something like "we should be able to ask for more than the contract because teams can just cut players anytime!" my answer is "Yes, that is part of the system and something that was not addressed in collective bargaining."
CJ is coming
Just as I never believed the doom and gloom about the NFL-NFLPA negotiations about missing time in the 2011 season, I do not believe the same about the Chris Johnson negotiations. Like the CBA, there is a deal to be made here. And like the CBA, nothing will happen without a deadline. That deadline is coming this weekend for both sides. The Titans will have to make other arrangements by then if there is to be no Johnson.
The focus of the negotiation is less about how to compare Johnson -- as a running back, a premium player, a top non--quarterback -- than about the tricky issue of "new money." Johnson has two years left on his rookie contract with a total of only $2.7 million left. Since that is a relatively small sum, it poses a challenge for both sides in valuing a new deal. Most of the recent deals -- Joe Thomas, Larry Fitzgerald, Lawrence Timmons etc.-- had one year left and for considerably more money. The issue of what "credit" or "value" the Titans receive for renegotiating a contract that has significant value for them now is the crux of the negotiations.
As an example, Adrian Peterson has one year and $10.7 million left on his deal. Thus, if Johnson and Peterson were to receive the exact same contracts, Johnson would have $8 million more "new money" than Johnson. That is what makes this deal tricky.
Johnson will get done, probably Saturday or Sunday.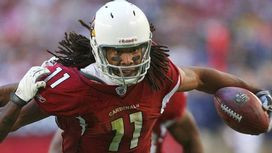 Fitzgerald's deal still has teams buzzing.
Fitzgerald lingers
Speaking of recent contracts, the Larry Fitzgerald deal with the Cardinals, discussed here, is still one that is buzzing through front offices of the NFL. Its $15 million average -- for a wide receiver -- is having an impact not only on negotiations for receivers but for many other players, including Johnson.
Teams blame the Cardinals for giving away all leverage to Fitzgerald by waiving the use of the Franchise tag when his prior deal would expire. With that leverage, Fitzgerald -- the face of the franchise -- could say to the team that he would either have a new deal by the start of the season or leave everything to chance after the season when the Cardinals would have no claim to his rights.
As great as Fitzgerald's new contract is, it was all predicated on the prior one in 2008 that was predicated on his oversized rookie contract in 2004. Perhaps, in a roundabout way, the NFL curing the ills at the top of the Draft may prevent the extreme leverage that players like Fitzgerald have had.
Preseason panic
The four worst nights of the year for a front office executive were the preseason games. I know all the necessities for evaluation and teams getting in sync, especially in this compressed offseason. However, I know this from experience: very little good can come out of these games. On the other hand, a lot of bad can happen. Injuries are the bane of the existence of the NFL teams, and preseason injuries feel even worse.
I rooted for one thing on all of the 70 plays of every preseason game: for everyone to simply get up.
And for those who do ascribe some kind of value to these games, you do realize that all NFL teams are 0-0 next week?
Finally, I find this loss of electricity obviously frustrating but oddly liberating. Our household experienced the strong return of book reading and playing board games. I am sure my frustration will grow as the hours - hopefully not days -- pass without power, but we are so fortunate compared to many others affected by this storm. Warm wishes to so many with much greater concerns from Irene than I.....
Follow me on Twitter at adbrandt.