8. WR Justin Blackmon: Oklahoma State (6-1, 215)
The lack of straight-line speed will limit him however, and when comparing him to first round receivers A.J. Green and Julio Jones last year, I don't think he's in their class. Nevertheless, he's got the skill set to line-up all over an NFL offense and make plays on all levels of the field.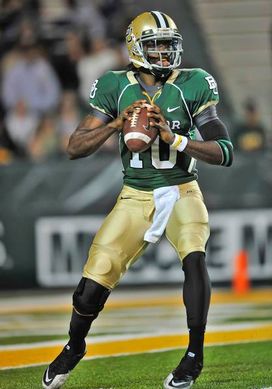 ICONGriffin III possesses a ton of upside to his game.
7. QB Robert Griffin III: Baylor (6-2, 220)
A "plus" athlete who can really throw the football, is a student of the game and is only starting to scratch the surface of his potential. Has as much upside as any prospect in the draft and looks like a future franchise signal caller.
6. DL Michael Brockers: Louisiana State (6-6, 306)
He might be a little raw and could have used some more work at the college level. However, he's an NFL talent with "plus" upside but can also come in and play vs. the run at a high level right away. Should get looks at both the three and five-technique spots and in my mind has the ability to become one of the better defensive lineman in the NFL down the line.
5. OT Matt Kalil: Southern California (6-7, 295)
There are some negatives concerning his overall anchor strength. However, you have a "plus" athlete at the position with good foot quickness, natural change of direction skills who knows how to bend. Might need a year to get stronger. But has the skill set to play in year one and develop into one of the leagues better offensive tackles as he matures physically.
4. OG David DeCastro: Stanford (6-5, 310)
The best offensive line prospect I've evaluated since Maurkice Pouncey in 2010. He showcases the ability to get a push in-line and is a dominant move player as well. He's fluid/natural in pass protection and with a little more power in his base he's got the skill set to become on of the leagues best guards early in his NFL career.
3. RB Trent Richardson: Alabama (5-11, 224)
The best running back prospect I've seen since Adrian Peterson. His running style might limit his shell life a bit in the NFL. However, he's the kind of back you can ride like a rented mule from day one and should become one of the NFL's top runners early on.
2. CB Morris Claiborne: Louisiana State (6-0, 185)
The top corner in this year's draft. He's tall and long which allows him to play big off the line. However, he showcases the footwork, balance and quick-twitch ability of a much smaller corner out of his breaks. With improved technique he should mature into one of the leagues best.
1. QB Andrew Luck: Stanford (6-4, 235)
Doesn't have an elite arm, but is a "plus" in just about every other facet of the game. Is about as safe a franchise quarterback prospect you can find.
Follow me on twitter: @WesBunting