NFP's Introduction to Scouting Class is now registering for our next session! Early bird pricing in effect until February 15th! Save $100 and REGISTER NOW!
Media Days are winding down, which means the start of the 2014 college football season is drawing near.
Let's take a look at some of the biggest remaining questions in the sport as camps get set to open up across the country.
His way or the highway: New Texas head coach Charlie Strong has wasted no time putting his mark on the Longhorns program, dismissing four players with the possibility of more on the way, according to ESPN.com's Max Olson. Longhorn players met with Strong for the first time in January, and there's no question the players knew exactly what the expectations were under their new program leader. Since coming to Austin, Strong has kicked six players off of the team and indefinitely suspended receivers Kendall Sanders and Montrel Meander last week after they were arrested on charges of sexual assault. Are the remaining players ready to fully buy in, or will there be more departures for one reason or another?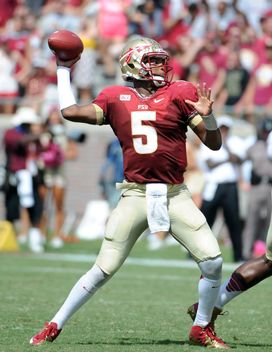 US PRESSWIREIs there a loss on the schedule for Jameis Winston and FSU?
Will Florida State face a serious challenge during the regular season?: If you look at the slate for the defending national champions, it's difficult to find a loss in 2014. However, Seminole fans have seen shocking trip-ups before during a season filled with high expectations (see NC State). And games against Clemson and Notre Dame could pose the biggest threats this season. The contests will be in Tallahassee, though, and the Seminoles have 14 starters back from last season's squad, including defending Heisman Trophy winner Jameis Winston and talented defenders Mario Edwards Jr., Ronald Darby and Jalen Ramsey. However, the Tigers will enter the game with their best defense yet under Dabo Swinney, and Chad Morris is still coordinating the offense, which should be productive even with the losses of quarterback Tajh Boyd and receivers Sammy Watkins and Martavis Bryant. Road games against Louisville and Miami (FL) certainly shouldn't be overlooked, and neither should the Week 1 game against Oklahoma State. But the October 18 contest versus Notre Dame, in my opinion, will ultimately be the toughest challenge after the September showdown with Clemson. Fighting Irish quarterback Everett Golson is poised for a huge season, but can new Irish coordinator Brian Van Gorder dial up a winning formula on defense?
A 'B1G' player on the national scene?: I mentioned in my Big Ten Media Days notebook the possibility of the Big Ten having multiple teams in the national conversation by the end of the season. In my initial College Football Playoff contenders piece earlier this offseason, I had Ohio State as one of the representatives in the first playoff. Michigan State should be strong as well and should build off of its Rose Bowl win over Stanford. But do not sleep on Wisconsin, especially if the Badgers are able to slip by LSU in the season opener. And Iowa's schedule is weak enough that the Hawkeyes could be undefeated heading into November. Michigan, meanwhile, could have a much better offense under new coordinator Doug Nussmeier, and Nebraska's defense has a chance to be consistent for a full season. The Big Ten has received a lot of criticism in recent years because of its struggles in big nonconference games and in bowl games, but it could be a really strong year for the league as we enter a new postseason era.
Coker: Throughout the offseason we've heard praise heaped on Jake Coker, the Florida State transfer who is expected to win the starting quarterback job in Tuscaloosa. While nothing will be handed to him, Coker didn't come to Alabama to sit on the bench. Seminoles head coach Jimbo Fisher has raved about his talent, and now we'll actually get to see the signal-caller prepare with the full squad as the Crimson Tide look to bounce back from back-to-back losses to close out last season.
Marshall: What type of punishment, if any, does Auburn head coach Gus Malzahn have in store for quarterback Nick Marshall, who was recently cited for possession of a small amount of marijuana and missed SEC Media Days? Will the potential Heisman Trophy contender sit out the first half or even the entire opening contest against Arkansas? It's doubtful, but Malzahn's been mum on the situation after saying at Media Days that his QB will "have to deal with the consequences."
DGB: Oklahoma added former Missouri wide receiver Dorial Green-Beckham to the program, and current NCAA rules allow him to participate in team activities and be eligible to compete in games starting in 2015. But OU is pursuing a waiver to make him eligible for this year, which is incredible in that he certainly hasn't gone through any hardship besides that of his own doing. The 6-6, 225-pounder caught 87 passes for 1,278 yards and 17 touchdowns in his career at Mizzou, including 12 touchdown catches in 2013 to tie for the SEC lead. So he's an absolute difference-maker who would cause a lot of problems for Big 12 defenses. But it does not seem probable that he will be eligible this season. However, anything is possible when dealing with the NCAA.
College Football Playoff talk: Shortly before the season begins, when pundits start making their national championship projections, they will do so by including participants for a four-team playoff for the first time ever. My post-spring projections had top-seeded Florida State facing No. 4 seed Ohio State in one semifinal, while Oregon battled Auburn in the semi featuring the Nos. 2 and 3 seeds. I have since replaced Auburn with Alabama. While that's the scenario I see playing out right now, those picks are subject to change. After all, do we really know the exact criteria that the 13-member selection committee will use when it puts together its weekly rankings?
Autonomy: The Power Five conferences are expected to gain autonomy when the proposal extended by the leagues comes to pass by the NCAA's board of directors on August 7. The proposal is aimed at allowing the larger conferences to have decision-making power in regards to issues facing their student-athletes, and the league's ADs would have more say in governance as well. The major conferences have stated that change needs to occur, such as full cost of attendance, in order to better provide for their student-athletes. The idea of four-year scholarships and an early signing day could also be key issues at play. While a lot of work would have to be done by the Power Five to enact their changes, it is a step that leaders of the leagues feel is necessary in a collegiate environment that has increasingly been in the national spotlight as large TV deals get inked, coaches' salaries soar and the NCAA tries to navigate through numerous lawsuits, among many other issues surrounding the business of college sports. After the August vote, the steering committee will allow the Power Five until October 1 to submit a first proposal with some of their ideas for change. It is possible that some of these changes could be enacted by the time the NCAA convention rolls around in January.
Other storylines of note:
— The Miami (FL) quarterback situation, as graduate transfer Jake Heaps is trying to hold off redshirt freshman Kevin Olsen as well as Ryan Williams, who is making great progress in his recovery from a torn ACL and who was the projected starter before the injury.
*Note: As camps open, stay with the NFP for the latest on all quarterback and high-profile position battles.
— The results of the Northwestern unionization vote will not be released until the school's appeal is ruled by the National Labor Relations Board, which means this could continue to drag on for months. Most experts believe that the majority of the players voted 'No,' but the vote marked a landmark day in college athletics. So any off-the-field issue facing the NCAA model is news in the current climate.
Dave Miller, the college football editor for the National Football Post, is on Twitter @Miller_Dave.