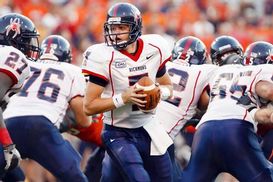 ICONCorp has some tools to work with.
6. QB Aaron Corp: Richmond (6-4, 214)
When you watch his footwork from under center and when asked to re-set his feet and balance himself in the pocket, he looks like a NFL caliber QB. He throws a catchable football; looks natural on the move and his arm strength should continue to slightly improve as he adds more bulk/strength to his lean frame.

NFL Fits…
49ers
Bengals
Packers

7. OLB Sammy Brown: Houston (6-2, 243)
Simply put, he's a guy who can reach the passer. He was a tough block off the edge this week and despite some work ethic concerns, you can't overlook his ability to get after the QB.

NFL Fits…
Chargers
Jets
Steelers

8. OT James Carmon: Mississippi State (6-6, 334)
He's not ready to play tackle in the NFL yet. However, when you look at his size, length, athleticism and upside, you have to think if he can continue to develop at the position he has the skill set to be an NFL lineman. And I'd certainly be willing to roll the dice on a talent like Carmon later in the draft.

NFL Fits…
Bills
Chargers
Vikings

9. CB Coty Sensabaugh: Clemson (5-11, 187)
There are some rough spots to his game relating to his footwork. However, he's a fluid kid who can turn and run, and has a good feel in coverage. He's a bright corner who understands pre-snap tells and is a guy who could end up filling out a depth chart because of it.

NFL Fits…
Lions
Patriots
Broncos

10. WR Julian Talley: UMass (6-1, 184)
Talley was one of the few guys down here this week who could consistently separate out of his breaks. He has the ability to mature into a good route runner, but needs to do a better job catching the football. Nevertheless, he can run vertically and has the talent to intrigue.

NFL Fits…
Jaguars
Broncos
Colts
Follow me on twitter: @WesBunting
Check out the NFP Draft page here...