A look at the NFP's quarterback prospects 5-1…
5. Brandon Weeden: Oklahoma State (6-4, 218)
His age will likely keep him from going as early in the draft as his talents deserve. But there isn't a throw this guy can't make and he has the skill set and mental make-up to mature into a potential starter with some time.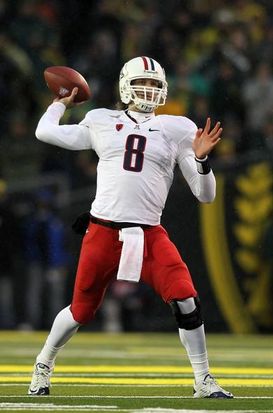 ICONFoles can certainly make all the throws.
4. Nick Foles: Arizona (6-5, 240)
A big, strong-armed passer who has the tools physically. Made some real strides as a quarterback as a senior without much talent around him. Is going to take some time, but is a potential starting caliber pocket passer.
3. Ryan Tannehill: Texas A&M (6-4, 222)
With such limited experience at the quarterback position it's not a case of where this guy is right now, but where he can be in 2/3 years. I love the talent and the overall production from a guy who doesn't have much experience playing from under center, as he plays way beyond his years. A potential franchise quarterback in my mind.
2. Robert Griffin III: Baylor (6-2, 220)
A "plus" athlete who can really throw the football, is a student of the game and is only starting to scratch the surface of his potential. Has as much upside as any prospect in the draft and looks like a future franchise signal caller.
1. QB Andrew Luck: Stanford (6-4, 235)
Doesn't have an elite arm, but is a "plus" in just about every other facet of the game. Is about as safe a franchise quarterback prospect you can find.
Just missed the cut…
Ryan Lindley: San Diego State (6-4, 230)
Lindley is certainly worth a draft pick and has the skill set to go somewhere in the early/mid round range, depending on how well he performs the rest of the year/post-season. However, if he doesn't improve his overall footwork/coordination from the pocket, it's going to be tough for him to make plays in the NFL when he doesn't have significant time.
G.J. Kinne: Tulsa (6-2, 234)
Kinne has a little Jeff Garcia/Bruce Gradkowski to his game. He will fall on draft day because of his size, but is your typical gritty QB prospect who is the son of a coach and in my view will find a way to make a roster and potentially fight for playing time down the line.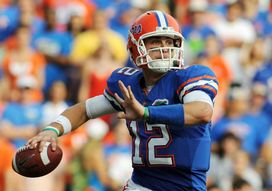 Brantley definitely has the talent to warrant a look.
Chandler Harnish: Northern Illinois (6-2, 220)
A gritty quarterback prospect who is accurate and can move the chains with his legs. A typical overachieving MAC QB who has been told all his life he's not good enough, but has enough to mature and develop into a reserve at the next level.
Case Keenum: Houston (6-2, 210)
Is a little more physically gifted than Graham Harrell coming out, but looks maxed out as a prospect physically. Is more of a reserve only at the next level, but is one you should be able to trust.
John Brantley: Florida (6-3, 219)
Does a lot of things well, but doesn't always trust what he sees. Needs some time, but is worth a developmental grade and late round/priority pick.
Follow me on twitter: @WesBunting
Check out the NFP Draft page here...