6. DE Melvin Ingram: South Carolina (6-2, 276)
He's an impressive pass rusher who can get after the QB in a number of ways. Plus, he's versatile, as he can be effective from a number of spots and will likely get looks from both 34 and 43 teams.

NFL Fits…
Eagles
Chargers
Packers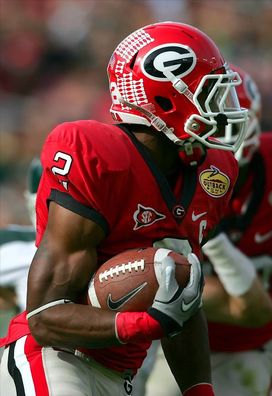 ICONBoykin was physical all week.
7. CB Brandon Boykin: Georgia (5-10, 183)
Despite his lack of ideal height, he's physical off the line, can turn and run, and did a better job as the week went on staying lower when trying to re-direct. He's a competitor who loves to get into the face of opposing receivers and was a tough guy to separate from all week.

NFL Fits…
Ravens
Browns
Broncos

8. DT Brandon Thompson: Clemson (6-2, 310)
He demonstrated the first step to consistently gain leverage at the point working the bull rush, kept his pad level down and displayed the ability to shed through contact. He's got a slight wiggle laterally as well, but is more of a one-gap guy only who can create penetration inside as either a 43 or 34 guy.

NFL Fits…
Packers
Broncos
Panthers

9. RB Doug Martin: Boise State (5-9, 215)
Martin isn't a dynamic size/speed guy, but there aren't many negatives to his game. He plays fast, runs low, is natural through the line of scrimmage and has a skill set somewhat similar to former Alabama RB Mark Ingram. He might fall a bit because he doesn't run overly well, but he has the skill set to start in the league.

NFL Fits…
Bengals
Jets
Buccaneers

10. QB Brandon Weeden: Oklahoma State (6-4, 218)
His age will likely keep him from going as early in the draft as his talents deserve. But, there isn't a throw this guy can't make and he has the skill set and mental make-up to mature into a starter early in his NFL career. Looks like a solid second round type value to me.

NFL Fits…
Redskins
Dolphins
Browns
Check out the NFP Draft Page here...
Follow me on twitter: @WesBunting