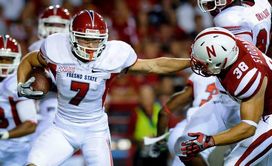 ICONWylie has been a tough cover all week.
6. Fresno State WR Devon Wylie (5-9, 186)
If Wylie can stay healthy, I think this guy could end up maturing into one of the better slot men in the NFL. He is the definition of a quick-twitch athlete, showcasing good explosion out of his breaks and possessing great vertical speed as well. He wasn't the most consistent of catchers either this week, but there is no doubt in my mind the guy is going to be able to separate quickly at the next level.

NFL Fits…
Panthers
Bills
Chargers

7. USC DT DaJohn Harris (6-3, 308)
Possesses an good first step off the ball, can gain leverage in the run game and generate a snap into/through contact. He can be effective as a pass rusher as well due to his first step, lateral quickness and ability to use his hands to gain leverage. At worst looks like a rotational guy, but should be able to fight for playing time early one and could develop into a starting 43 tackle.

NFL Fits…
Rams
Colts
Bears
8. Iowa CB Shaun Prater (5-10, 185)
He's not the biggest or fastest of corners. However, he's improved his feel in coverage as a senior, recognizes routes well and does a nice job cleanly getting out of his breaks when asked to run vertically down the field. Plus, he plays faster than he times because of his "plus" balance and ability to stay low consistently. Looks like a solid NFL nickel.

NFL fits…
Patriots
Titans
Packers

9. UT Chattanooga QB B.J. Coleman (6-3, 234)
In a quarterback starved league, you can't ignore a kid with Coleman's skill set. He's a strong kid with a great arm and flashes the ability to balance himself into throws and accurately deliver the football on all levels of the field. Now, he's inconsistent, but most of that stems because of poorer footwork, which can be fixed with more development because he has the natural athleticism and work ethic to improve.

NFL Fits…
Redskins
Seahawks
Raiders

10. DT Akiem Hicks: University of Regina (6-5, 325)
A tall, long-armed lineman who carries his weight well, displays impressive power on
contact and has the first step to get up the field and overwhelm. For a big guy he displays
some natural movement skills as well and his long arms allow him to gain leverage
consistently. However, the former LSU transfer is still raw, but with some development
looks like a guy who could end up starting in the league if he puts in the time. That is a
question mark though.

NFL Fits…
Rams
Giants
Cowboys
Just missed the cut…
Hampton CB Micah Pellerin (6-1, 195)
A tall, good-looking corner who can turn and run, and showcases good quickness/feel in off man coverage. Has a tendency to get a bit overextended when trying to get out of his breaks and close. However, he displays a "plus" burst when driving on throws and uses his length well to get after the football.

NFL Fits…
Jaguars
Broncos
Rams
Follow me on twitter: @WesBunting
Check out the NFP Draft Page here...