6. Ronnell Lewis: Oklahoma (6-2, 244)
Possesses an impressive physical/athletic skill set, a "plus" motor and a real passion for the game. I don't think he's ever going to be a top end pass rusher in the NFL. However, as a 6-8 sack guy long term who can help out on special teams and give you all he has play in and play out, I think he warrants a second round type grade.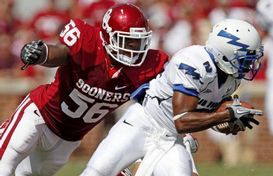 ICONLewis plays the game fast and hard.
7. Andre Branch: Clemson (6-5, 260)
Has a lot of untapped talent. And is the kind of athlete you would expect to mature into a solid three down player in the NFL as a 43 DE. However, showed enough athleticism during workouts to make the move to OLB in a 34 as well.

8. Vinny Curry: Marshall (6-4, 263)
A strong kid with good movement skills and the production to go along with the skill set. Isn't a dynamic athlete but has the ability to keep tackles off balance with his repertoire and get some looks as a stand-up guys as well.

9. Brett Roy: Nevada (6-4 280)
Has played all over with his hand on the ground, but might be most effective as a 34 linebacker. Reminds me some of Patriots OLB Rob Ninkovich. He's powerful; uses his hands well to shed and could play either inside or outside linebacker spots in a 34 scheme.

10. Kyle Wilber: Wake Forest (6-5, 240)
An intriguing 34-rush end to me. Has a good first step, can change directions on his pass rush and plays the run with good integrity. Could be posed for a jump up draft boards with a solid year. Reminds me some of Jaguars DE Aaron Morgan.
Check out the NFP Draft page here...