The Breakdown…

1. Marcus Lattimore: South Carolina (6-0, 218)
Even when Marcus Lattimore was completely healthy as a sophomore, I would not put him in the same class as Adrian Peterson or Trent Richardson, as I don't see the same type of explosive first step from Lattimore when pressing the hole.

Now, that isn't to say I don't see Lattimore (if healthy) as a potential top-5 NFL back. However, I think from an athletic and physical standpoint both Peterson and Richardson were superior. Nevertheless, if Lattimore can fully recover from his knee injury, he looks like a guy who will be ready to step in and take the pounding of an every down type NFL back from day one.

Lattimore is a guy who can keep you ahead of the chains and because of his vision and ability to break tackles he should create his fair share of long runs, much like Larry Johnson back in the day.

2. Knile Davis: Arkansas (6-0, 226)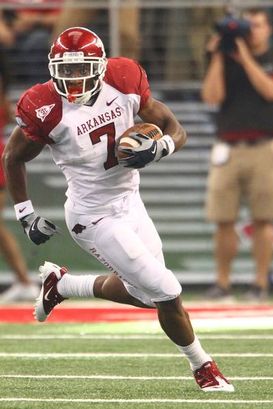 ICONDavis could end up the draft's top RB prospect.
If Arkansas RB Knile Davis is healthy, (which he claims he is) he could put himself in position to be the number one running back drafted in the 2013 NFL draft. Davis is a thick, compact runner with good lateral quickness when he gets up to full speed. And his combination of size, power and explosiveness makes him a bear to bring down in all areas of the game.

At times he does getting a bit leggy when asked to change directions. However, he's got the ability to break tackles on all areas of the field, run effectively inside because of his size, vision and burst, and he will create in the open field.

Therefore, if healthy, Davis has the makings of a first round caliber back and a guy who should be able to carry the load for an NFL offense early on.

3. Ray Graham: Pittsburgh (5-9, 195)
When healthy Pittsburgh running back Ray Graham possesses the type of "make you miss ability" and feel as a runner to consistently create big plays in the NFL. He lacks ideal top-end speed, but accelerates extremely well out of his breaks and looks natural running both between the tackles and toward the edge.Now, the big concern with him is his overall health. He's coming back from an ACL tear and will need to prove he can be the same type of back he was prior to the injury.
However, when healthy there are a lot of similarities in Graham's game to former Pittsburgh running back LeSean McCoy (who has gone on to have a stellar career in the NFL) and Graham could end up having a very similar career if he can bounce back form the knee injury.
4. Montee Ball: Wisconsin (5-9, 212)
I love the fact that Ball recommitted himself this past off-season, lost the needed weight, added quickness and had one of the most productive seasons ever as an NCAA running back. Even more impressive was the fact he did it against opposing defenses that knew the run was coming and would consistently load the box to stop him. Ball showcases a good feel between the tackles, natural quickness picking his way through traffic and has enough lateral quickness and power to break/slip tackles at the line and make his way into the open field.
The biggest concern I have with Ball was the same many had with former Wisconsin RB Ron Dayne coming out. How many of those rushing yards did Ball really manufacture on his own? The Wisconsin offensive line was as good as they come in college football with all five having the skill set to get drafted at the next level and a couple being top-end picks. Therefore, they routinely opened up gaping holes for Ball inside to run through and made his life much easier than most NCAA backs.
Now, there is obviously still a lot of talent to Ball's game, but I don't see him as elite caliber prospect at the position and he looks more like a second/third round type talent who would be best served in a two-back stable at the next level. But should be able to come in and be productive because of his ability to play three downs from day one.

5. Spencer Ware: LSU (5-11, 223)
When motivated and his playing weight is in check, LSU RB Spencer Ware has the skill set to start in the NFL, wear down opposing defenses and keep the offense ahead of the chains. He's never going to be a legit big play threat and his shelf life is going to be shorter than most backs because of his demanding running style.

However, he remind me a lot of former Cowboys running back Marion Barber III and I think he could end up having a similar style career for himself at the next level.