QB Robert Griffin III: Baylor (6-2, 220)
What I like…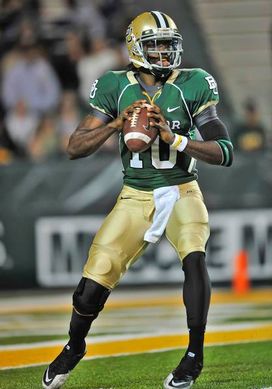 ICONGriffin has as much upside as any prospect in the draft.
- Possesses a natural feel for the game.
- Displays the ability to create with both his arm/legs when plays breakdown.
- Keeps eye level down the field when flushed from the pocket looking to create the big play vertically first.
- Can be a magician with his legs, making defenders miss and picking his spots to run.
- Exhibits excellent feel/coordination when deciphering when to throw on the move and despite being unorthodox at times makes everything look very easy.
- Is simply a natural passer who can throw from a number of body angles and release points with accuracy.
- Possesses excellent foot quickness, resets his feet instantly and can quickly balance himself and get rid of the football.
- When he sets his feet in the pocket generates good toque from his lower half and the ball really comes out cleanly. Spins it well on all levels of the field.
- Touch on bucket throws down the field is top-tier for a QB prospect.
- Is comfortable throwing receivers open at the second level and can fit the football into tight areas when he sees it.
- Has improved every year on campus as a passer. Is worker and a humble kid as well, not a "five car garage guy."
What I don't like…
- Isn't comfortable taking snaps from under center. Has some experience, but doesn't get much depth, wants to settle his feet too quickly and isn't natural off play action yet.
- Doesn't consistently stay in an ideal throwing position from the pocket. Gets upright and narrow with his base and will bounce around trying to stay in rhythm.
- Lacks a great feel going through his progressions at this stage, more of a one side of the field guy who when flushed can find secondary reads.
- Doesn't do a great job pre-snap identifying the blitz and locating the hot man.
- Gets inconsistent with his release point from the pocket at times, but mostly when rolling right. Will drop arm angle and at times looks to guide the football.
-Lacks ideal size, possesses decent girth through his frame, but looks a bit on the shorter side, in the 6-1 range.
Final Take…
Overall, I stated back in September after I saw RGIII vs. TCU, that if this guy can play at a high level all season, he's got the kind of talent to be the one quarterback that actually makes NFL teams think twice about Stanford quarterback Andrew Luck. Griffin possesses the athletic skill set to consistently create second lives for himself both inside and outside the pocket, he looks natural when asked to improvise if plays breakdown and can really hurt you with his ability to make plays down the field. Now, there are still some raw spots to his game.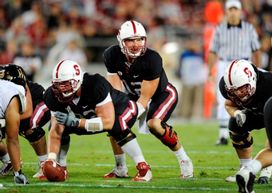 ICONLuck is still on top.
However, he's a worker from a top-tier family who wants to be great and when you add together his physical skill set and his clean character on/off the field, I feel confident giving this guy a higher grade than any quarterback from the 2011 NFL draft class.
With that being said, Luck really is a rare prospect at the position. He's a "plus" in just about every category you evaluate a quarterback in outside of arm strength, but has the frame to get stronger and I don't think arm strength will ever be a real concern for him at the next level. He's a bright kid both on and off the field who deciphers information quickly. Is comfortable on the move, finds secondary targets while working his way across the field and is one of the few college quarterback prospects to come along with experience calling plays at the line and getting his team in and out of formations pre snap.
When you look at his physical capabilities and add them to his mental skill set, you have a guy who is as close to a can't miss at the position as possible. And in my estimation looks like a future pro bowl guy who can be that franchise signal caller long term.
Therefore, as much as I like RGIII, it's nearly impossible for me to pick any prospect over Luck in this year's draft.
Follow me on twitter: @WesBunting
Check out the NFP Draft Page here...