Robert Griffin III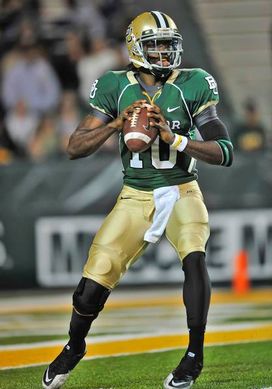 ICONGriffin III is a dual threat guy.
What I like…
- Possesses a natural feel for the game.
- Displays the ability to create with both his arm/legs when plays breakdown.
- Keeps eye level down the field when flushed from the pocket looking to create the big play vertically first.
- Can be a magician with his legs, making defenders miss and picking his spots to run.
- Exhibits excellent feel/coordination when deciphering when to throw on the move and despite being unorthodox at times makes everything look very easy.
- Is simply a natural passer who can throw from a number of body angles and release points with accuracy.
- Possesses excellent foot quickness, resets his feet instantly and can quickly balance himself and get rid of the football.
- When he sets his feet in the pocket generates good toque from his lower half and the ball really comes out cleanly. Spins it well on all levels of the field.
- Touch on bucket throws down the field is top-tier for a QB prospect.
- Is comfortable throwing receivers open at the second level and can fit the football into tight areas when he sees it.
- Has improved every year on campus as a passer. Is worker and a humble kid as well, not a "five car garage guy."

What I don't like…

- Isn't comfortable taking snaps from under center. Has some experience, but doesn't get much depth, wants to settle his feet too quickly and isn't natural off play action yet.
- Doesn't consistently stay in an ideal throwing position from the pocket. Gets upright and narrow with his base and will bounce around trying to stay in rhythm.
- Lacks a great feel going through his progressions at this stage, more of a one side of the field guy who when flushed can find secondary reads.
- Doesn't do a great job pre-snap identifying the blitz and locating the hot man.
- Gets inconsistent with his release point from the pocket at times, but mostly when rolling right. Will drop arm angle and at times looks to guide the football.

Final take…

Overall, when looking at the two prospects what you have is case of a higher upside and more naturally talented prospect in Robert Griffin III vs. a higher floor guy in Matt Barkley who is more limited physically.

Barkley has been working in a pro style system for three years, deciphers information quicker, is more adapt handling the blitz and overall looks a bit more in control of his offense at this time. However, Griffin III on the other side is the more gifted athlete with the better arm, spins a cleaner football and has much more untapped potential.

I still think both guys are future starting NFL quarterbacks. I just feel there are some physical limitations surrounding a prospect like Barkley that would keep me from giving him the same type of grade as Griffin III. Basically with Barkley I worry about his lacking athleticism and foot quickness in the pocket. Too often he seems to struggle to quickly collect his footing, which directly corresponds with his accuracy problems.

Griffin III on the other hand is much more fleet of feet, is a more fluid/natural thrower of the football and displays better overall touch/accuracy in my view vertically down the field.

Both get high marks in the form of leadership capabilities, work ethic, and attitude. Therefore, since I'm looking at two bright quarterbacks who "get it" off the field, I'd go with the kid who might need a little more work, but could ultimately mature into the much better overall NFL quarterback. And that's Robert Griffin III.
Follow me on twitter: @WesBunting
Check out the 2012 NFP Draft Page here...