The NFP's Matt Bowen and Wes Bunting are back with the "Run N' Shoot" Podcast to talk NFL playoffs and breakdown some of the top prospects in tonight's LSU-Alabama matchup in the BCS Championship game.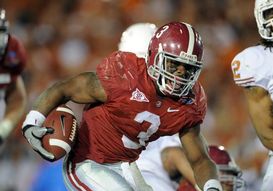 ICOnRichardson highlights a BCS matchup that is loaded with NFL talent.
The guys take a detailed look at Tim Tebow, the Broncos game plan and get into the Xs and Os of Demaryius Thomas' 80-yard TD in OT that sent the Steelers home for the offseason.
Plus, Bunting gives you a list of players to watch tonight that will hear their names called early in the upcoming NFL Draft.
Plenty to take in…
Follow Bowen on Twitter: @MattBowen41
Follow Bunting on Twitter: @WesBunting
NFP's Introduction to Scouting Class is now registering for our Winter sessions! Save $200 if you register before December 20th! REGISTER NOW!