NFP's Introduction to Scouting Class is now registering for our next session! Early bird pricing in effect until February 15th! Save $100 and REGISTER NOW!
In the Nov. 10 Carolina-at-San Francisco matchup during the regular season, a 10-9 upset victory for the visitors, quarterbacks Colin Kaepernick of the 49ers and Cam Newton of the Panthers combined for only eight rushes and 31 yards.
Only four times in 26 career starts (including playoff games) has Kaepernick posted fewer rushing yards than the 16 he squeezed out that day. Newton, who is in the playoffs for the first time, started all 16 regular-season games his first three years in the league, and played just six of 48 contests in which he rushed for fewer than the 15 yards that he managed against the stingy 49ers' defense.
But there's a good chance, given the stakes involved in the game and the ability of both of the quarterbacks in Sunday's rematch to win games with their feet, that the two signal-callers could each have single runs longer than the 31 yards that they totaled in that game eight weeks ago. It's hard to imagine Kaepernick and Newton subjugating their rushing skills on Sunday afternoon.
Unless, of course, those running abilities are subjugated for them.
As defensive coordinators Vic Fangio of San Francisco and Sean McDermott of the Panthers began installing the rudiments of their respective game plans Monday, limiting the out-of-pocket forays by the opposing quarterback was almost certainly one of the top priorities for both men. Both coordinators are stop-the-run-first guys. That's their shared mantra and their charges have bought in to the mindset. But stopping the run in this case also means slowing the opposition quarterback. And that's probably going to be a challenge.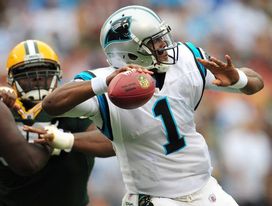 ICONNewton led all quarterbacks with 585 rushing yards during the regular season.
"You don't want (Kaepernick) getting loose," said Carolina linebacker Thomas Davis, who had an outstanding season. "We've seen what our guy (Newton) can do, and how frustrating it can be to other teams when they've got everything covered and he takes off and makes a play (on the ground). We know, from getting ready for them the last time how dangerous Kaepernick is. We've got to be just as disciplined in the (Sunday) game as we were that last time."
This is not, it should be noted, the first "Zone Option Bowl" in the NFL. Last season, in the wild card round, Seattle (and Russell Wilson) topped Washington (and Robert Griffin III). That was, remember, the game in which RG III injured his knee. The two quarterbacks that day had an aggregate 88 rushing yards. But 67 of those yards belonged to Wilson, who ran the option well but also scrambled for yards.
There have probably been other playoff matchups that featured excellent running quarterbacks – heck, last Saturday's wild card game with Kansas City's Alex Smith and Andrew Luck of Indianapolis included two of the league's underrated runners at the position – but likely only a few that had the potential for both quarterbacks to have such a profound effect with their legs.
Newton led all quarterbacks in rushing during the season with 585 yards and a 6.9-yard average. Kaepernick averaged 5.7 yards and his 524 yards were the fourth most for a quarterback. In truth, neither quarterback has run quite as much lately, and both franchises have reduced the exposure of their stars by cutting back on the zone option reads. Said one San Francisco defensive veteran on Monday afternoon: "You don't see as many planned runs (by Newton). But he's always going to be a big 'red zone' guy for them. And you won't want him running all over the middle of the field, either."
In Sunday's victory at Green Bay, Kaepernick rushed for 98 yards, the best rushing total of the weekend, but most of that real estate came on scrambles and not option plays. It was a big departure from last season's win over the Packers when the San Francisco quarterback exploded for 181 yards, with more than 170 of those yards on zone option calls. The difference for both quarterbacks is that Sunday's game is one in which a victory leaves his team one win shy of a Super Bowl berth. And so it will not be surprising if the teams' offensive coaches install more options, and if the quarterbacks respond well to the increase.
What will be interesting is how the defensive coordinators, whose teams are among the best pass rushing groups in the league, devise their pressure packages. How, for instance, will McDermott attempt to keep upfield rushers Charles Johnson and Greg Hardy disciplined in their lanes and still have them key against the option? "It's going to be a huge part of the game," one Carolina defensive lineman allowed.
It's difficult to divine how much the two defenses utilized a "spy" or similar shadow defender in the Nov. 10 game. It certainly appears, in review, that was the case on some of the snaps, but hardly all the passing downs. But rest assured that, come Sunday, Fangio and McDermott will pull out all the stops and perhaps even a few wrinkles to try to keep the other team's quarterback from bolding upfield.
It's definitely one of the keys to the game.