Where to play him?
It has been tough to figure out the game of South Carolina OT Rokevious Watkins. The 6-4, 340-pound tackle possesses a massive frame, natural quickness off the snap and knows how to get his body around/seal in the run game and use his size to eventually get a push. However, he's not a real balanced lineman, doubles over at the waist into contact and too often struggles consistently stay engaged. Too his credit he does do a nice job taking good initial angles toward his target, but gets overextended at the point and struggles to stick. Therefore, the projection inside to guard is key for his grade. He does have the size and lateral quickness to hold his own. It's just trying to figure out if he can play with the leverage needed to create a push and the balance needed to stick through contact. At this stage I would say he warrants more of a size/athletic free agent grade only than potential draft pick.
Helped by the poor class…
After watching Arkansas ILB Jerry Franklin again this weekend I simply don't see the guy as a potential starting caliber linebacker at the next level. I get the production over a four-year period. However, when watching him inside he doesn't do a great job using his hands to shed and disengage from blocks when reached at the second level. And he takes far too many false steps when trying to key off lineman inside and find the football. Now, he's an above-average athlete who has some range. But even then his motor seems to top out at times and I wouldn't call him a "plus" guy in pursuit. He's a solid tackler who can run and does a good job staying balanced vs. the pass. However, he just doesn't strike me as a guy who has good enough instincts and/or athleticism/power to overcome his deficiencies and warrant a starting job in the NFL.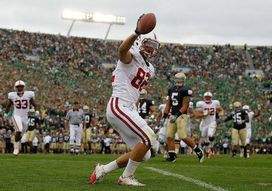 ICONFleener is a tough cover on all levels of the field.
How can you pass on this guy?
Stanford TE Coby Fleener is a massive 6-6, 245-pound tight end prospect who has done nothing but boost his stock this year as a senior catching 32-passes for 648-yards and 10-touchdowns. For a guy his size he possesses good straight-line speed when asked to get down the seam, but also displays a unique blend of coordination and body control when asked to go get the football even when he's covered up. Plus, he has the size to add more weight to his frame and improve even further as an in-line guy at the next level. Now, I know there are some more athletic junior tight ends in the class (Dwayne Allen, Clemson and Orson Charles. Georgia) who might have bit more upside. However, I don't think either are as NFL ready as Fleener who in my mind has a chance to come in and mature into one of the better all around tight end options at the next level early in his NFL career.
Follow me on twitter: @WesBunting
Check out the New NFP Draft Page...