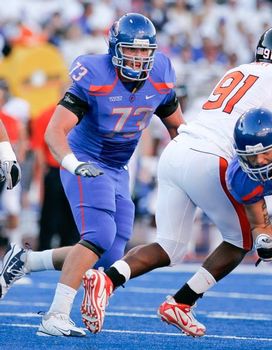 ICONPotter possesses the athletic ability needed for the next level.
• Speaking of offensive tackles, Boise State's Nate Potter is a good athlete off the edge. He can bend, mirror in space and get out into the second level in the run game. However, he's not a real strong kid and doesn't look real long armed either. He has a tough time gaining leverage consistently through contact vs. the bull rush and can be overwhelmed at the point. Now, from an athletic standpoint there is a lot to like, but he looks more like an zone guy only who might be better suited to kick inside to the next level where his shorter arms won't be such an issue.

• One underrated guard prospect that I do like is Wake Forest's Joe Looney. The 6-3, 320-pounder isn't the most athletic looking kid and does get a bit hunched over in his stance. However, for his size he exhibits good initial quickness off the football, can gain leverage, run his legs through contact and create a push inside. He's also pretty impressive for his size getting into the second level and breaking down on contact. Looney's got the intial quickness to reach speed trying to one-gap inside as well and anchor, and when he gets his hands on you he's smooth laterally through contact. Now, he isn't as comfortable in space holding his own in pass protection, but looks like a better prospect/athlete to me than former Wake Forest OG Chris DeGeare and projects as potential back-up early on who could eventually fight for a starting role.

• I came away with even more concerns Saturday evening with Stanford OT Jonathan Martin than I had going into the game. To his credit he does do a nice job staying balanced and compact with his footwork on his kick slide, has good range, keeps his hands up and stays low into contact. However, he gets too wide with his footwork when trying to anchor in order to make up for his less than ideal lower body strength and is susceptible to any type of counter back inside because of his overextended footing. Now, it's certainly something that is correctable in the NFL, but he, like most of the tackle class needs to get stronger and become a better anchor player.

• I've been a big fan of Boise State DE Shea McClellin all year. But I have to say after watching him vs. TCU this weekend I like him much more from a three-point stance than standing up. He has a tendency to play upright when standing up and was handled far too often for my liking vs. running backs in blitz pick-up. However, with his hand on the ground he maximized his intial burst, was able to get on top of tackles quickly, worked the club/rip and then flatten out with a low pad level around the edge. He certainly flashes pass rush ability, but again I don't think he's quite the 34 prospect his frame suggest he would be.
Follow me on twitter: @WesBunting
Check out the new NFP Draft Section here.