NFL ready…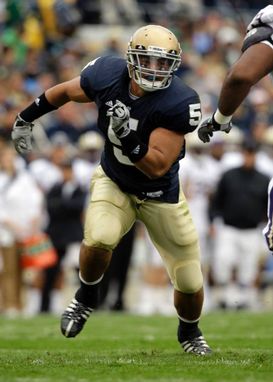 Te'o is a naturally explosive kid.
Watching Notre Dame ILB Manti Te'o this weekend I came away impressed with the one aspect of his game that gets overlooked the most, his play vs. the pass game. Te'o isn't an overly rangy guy. However, he's got a good feel in space, keeps his feet under him when looking to re-direct and sits low in his drop. This allows him to play fast, cleanly get out of his breaks and create a noticeable burst when driving on the football. Plus, when this guy attacks downhill he generates a ton of natural explosion, takes good angles and can really snap through the hips into contact, creating controlled collisions at the point. To me he's as NFL ready as any linebacker in all of college football and looks capable of starting from day one and maturing into one of the better inside backers in the NFL.

Draft notes…

When watching Wisconsin WR Nick Toon I like his size, overall coordination as a route runner and ability to go get the football. However, there just isn't a real dynamic aspect of his game. He's not a burner, doesn't create a ton of seperation out of his breaks and isn't overly physical when asked to go get the football. I think there is certainly a spot for him in the NFL. However, when looking over last year's class I still think a guy like Miami's Leonard Hankerson was a better overall prospect and he ended up going in the 3rd round.

Illinois RB Jason Ford is a thickly put together kid with a compact frame and good wiggle for his size. However, it's tough to think a college back is going to be successful in the NFL if he doesn't possess a good first step, which is exactly the case for Ford. He runs low and can pump his legs through contact. However, even when he does use his lateral quickness to side step a tackle, he doesn't have the ability to burst toward daylight and separate. Reminds me a lot former Packers reserve RB Dimitri Nance.

As dynamic as Arkansas WR Joe Adams can be both vertically down the field and with the football in his hands, the one quality of his game that often gets overlooked is his balance and ability to adjust to the throw. He made a tipsy turning grab this week on a deep ball that was NFL quality and if he can continue to improve his focus this is a guy who can be effective both inside and out at the next level.
Follow me on twitter: @WesBunting
Check out the 2012 NFP Draft Page here.