Stay in school young man…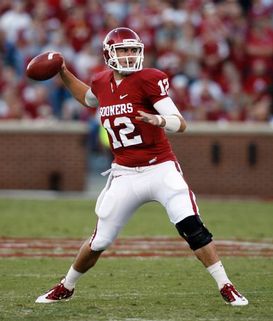 ICONJones had a tough time Saturday night.
It was a brutal performance from Oklahoma QB Landry Jones this weekend as the Sooner signal caller finished the day 27-50 with two picks. And after a performance like this against a very average defense, on the road, in a pressure packed situation, in my view it's best if Jones stays in school.
To his credit when he knows where he wants to go with the football and "it's on" he's very good. Even when he has to manipulate a safety first he can quickly realign himself with a target and get the football out accurately and on time. However, whenever he needs to find a secondary option he rarely works the entire field and gets upright/fidgety in the pocket causing him struggle to stay balanced into throws and his accuracy suffers because of it. He seemed confused and flustered far too often Saturday whenever he felt pressure and never got comfortable in the pocket, which is a routine struggle for him. And overall after watching him all season long, to me he isn't a top-five quarterback prospect.
As of now I would rank the top five quarterback prospects as…
1. Andrew Luck: Stanford
2. Robert Griffin III: Baylor
3. Ryan Tannehill: Texas A&M
4. Matt Barkley: USC
5. Nick Foles: Arizona

One-liners…
If you're looking for that potential late round/free agent tight end prospect who isn't a threat in the pass game, but can win for you consistently in the run game doing the dirty work as a blocker, UCLA's Cory Harkey is your guy. He displays explosion/power at the point of attack and can routinely handle defensive ends on contact And when talking with some NFL scouts some even like him as a potential developmental offensive lineman if he can add some more weight.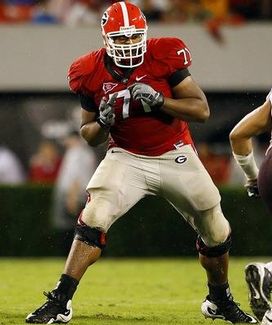 ICONGlenn is a gifted athlete for his size.
I came away impressed with the range, athleticism and overall quickness of Georgia LT Cordy Glenn vs. an athletic LSU front four this weekend. And I am buying into the fact that even at his size (6-5, 340) Glenn can reach NFL speed initially. However, where he gets himself into trouble is with his balance through contact and has struggles to keep his base under him, which causes him to buckle over at the waist and fail to re-direct consistently on the counter. However, even more concerning was his lack of push in the run game vs. LSU this week as he struggled with leverage/balance and too often allowed the longer LSU defensive linemen to extend their arms and shed his block on contact. Glenn really is a unique prospect for his size, but he still has too many holes when it comes to technique (that I don't know if they can be fixed) for me to give him a first round grade.
Oregon tight end David Paulson has been a productive pass catcher at the college level who has excellent coordination and hands when asked to adjust. However, at 6-3, 241-poounds I don't know what this guy can offer NFL teams. He doesn't possess the power to line-up with his hand on the ground and block at the point of attack. And he looks like a 4.8+ guy who is really going to struggle to separate vs. man coverage in the NFL. Again, I know he's been productive, but there are physical limitations to his game that makes him look nothing more than an overachieving free agent to me.
If there is one thing that jumps out about Oregon WR Lavasier Tuinei's game, it's the guys ability to block in both the run and pass game. At 6-5, 216-pounds he doesn't run well, isn't sudden/slippery out of his breaks and isn't ever going to separate at the next level. But because of his ability to block I could see a run heavy team look at him as a potential roster guy much like the Jets use WR Patrick Turner.
Follow me on twitter: @WesBunting
Check out the NFP Draft Page...