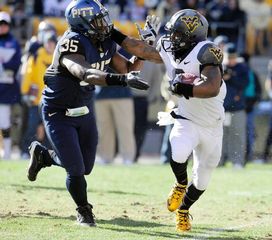 ICONLindsey isn't dynamic in any area of the game.
QB Ryan Lindley: San Diego State (6-4, 230)
Lindley is certainly worth a draft pick and has the skill set to go somewhere in the mid round range, depending on how well he performs the rest of the year/post-season. However, if he doesn't improve his overall footwork/coordination, it's going to be tough for him to make plays in the NFL when he doesn't have a clean pocket.
WR Nick Toon: Wisconsin (6-3, 220)
I like his size, short area quickness and ability to adjust to the football. Isn't a guy who is going to create consistently down the field, but knows how to gain enough separation, pluck and create after the catch. Looks like a receiver who can play on the outside as a potential number two wide out running the inward breaking routes with some time, but isn't ever going to be a dynamic playmaker.
DE Brandon Lindsey: Pittsburgh (6-2, 250)
A good athlete with a compact frame who knows how to get after the quarterback in a number of ways, but isn't dynamic in any area. Doesn't look like a playmaking type pass rusher, but his lateral quickness will give him a shot as a rush backer.
Follow me on twitter: @WesBunting
Check out the NFP Draft page here...