NFP's Introduction to Scouting Class is now registering for our next session! Early bird pricing in effect until February 15th! Save $100 and REGISTER NOW!
Mike Pouncey came into this world first, but Maurkice Pouncey came into the professional football world first, and Mike Pouncey may be the beneficiary of that.
They may be identical twins, but they are not identical players, and the challenge for NFL teams is to look at Mike and not see Maurkice.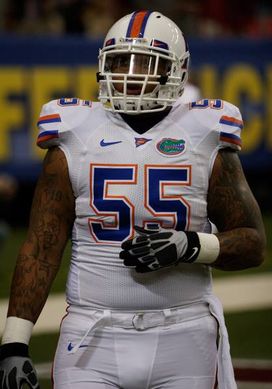 ICONMike Pouncey reminds scouts of his twin brother -- and that's not a bad thing.
NFL scouts are acknowledging that Maurkice's success with the Steelers as a rookie is hard to ignore when they are assessing his twin brother. "Even if it's subliminally, his brother's success is a factor," said one AFC college scouting director. "The fact that his brother played so well so quickly and has been a good character guy, a leader and shown maturity all reflects well on Mike. And everyone you talk to down at Florida loves both of them."
When I have asked different scouts what they think of Mike Pouncey, the first thing out of their mouths usually is a comparison to Maurkice. I've heard, "He's not as good as his brother," several times. I also heard, "He compares to his brother well, and the fact that his brother played so well makes him more appealing."
Their bodies are virtually undistinguishable, with the exception of tattoos. At the combine this week, Mike was 6-5.0, 303 with an arm length of 32 ¼ and hands that measured 9 ¾. Last year at the combine, Maurkice measured 6-4.4, 304 with an arm length of 32 ½ and a hand size of 10 inches.
Neither participated in the bench press, but the suspicion is Mike may be stronger. Many scouts are convinced Maurkice is more athletic, however.
"His brother is a lot more athletic," an AFC national scout told me. "I thought this guy is a little more stiff and he doesn't bend as well. I think that's why he stayed in school."
When I asked Maurkice to compare himself to his brother, he said he is faster. But he said his brother was a better player. "He's a lot better than me," he said. "In college, I honestly thought he was. He graded out better than me every week."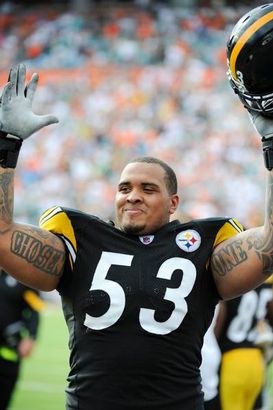 If Maurkice Pouncey had been a bust for the Steelers, his brother Mike might have been seen in a different light.
At the combine, Mike said he doesn't think people can see a difference between he and Maurkice on tape. "We really play the same," he said. "Obviously we're the same personality but I feel like we're the same player."
Asked if he does anything better than his brother, Mike said, "I think I block in the open field better."
Mike may have more versatility. He played some games at defensive tackle for the Gators, and made his mark as a guard before shifting to center in 2010 when his brother vacated that spot. At center, Mike struggled initially with shotgun snaps, but eventually seemed to get the hang of it. Scouts believe Mike can play either position.
Maurkice was chosen with the 18th pick in the draft by the Steelers. Mike is not expected to be chosen quite that high. But he probably won't stay on the board a lot longer than his brother did. As the consensus interior lineman at either center or guard, Mike probably will be taken in the bottom third of the first round. It will be a shock if he makes it to round two.
Maurkice has been too good for Mike to go that low.
Dan Pompei covers pro football for the Chicago Tribune at chicagotribune.com.