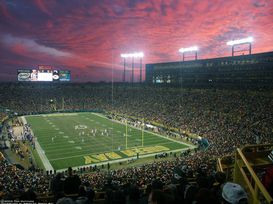 Lambeau Field will get more seats and larger video screens.
The Purpose
Now the Packers are once again looking to give Lambeau a facelift: adding 6,700 new seats, two entrance gates, two oversized HD video screens and a viewing platform in the north end zone.
The goal is to raise approximately $20 million to put towards the $143 million project. More than $7 million was raised within the first three hours of the sale. The Packers intend initially to offer up to 250,000 shares (a $62.5 million value if sold in entirety), but also have the ability to offer up to 880,000 shares. They may, however, need to seek additional approval from the NFL for any shares sold over the initial 250,000 allotment.
What Stock Gets You
So what does $275 ($250 cost plus $25 handling fee) get a shareholder? Packers stock pays no dividends, can only be sold back to the team (for 2.5 cents), never appreciates in value and affords very limited voting rights.
Besides a stock certificate for proud display, shareholders are invited to the annual stockholder meeting at Lambeau Field in July. I have presented at several of those shareholder meetings; they are perhaps the friendliest stockholder meetings in America.
And no, buying stock will not ascend the purchaser up the 81,000-name waiting list for tickets nor allow access to players or the team.
The Real Reason They Buy
Many are amused at the overwhelming response to purchasing stock with no value. Having worked at 1265 Lombardi Avenue for nine years, I am not.
Packer Nation extends far beyond the borders of Wisconsin and even the United States. The small-town tradition, unique ownership structure and success on the field endear the team to fans worldwide.
When I looked for a house in Green Bay, virtually every one had a "Packer room," a shrine dedicated to the team, usually with stock certificates from previous sales on proud display.
For the people buying Packer stock, it is certainly not, as the offering disclaimer says "an investment in 'stock' in the common sense of the term." It is much more of a psychic and emotional investment.
In working for the Packers, I always felt a sense that – without an owner – I had a fiduciary duty to the shareholders, to act in their best interests at all times. Although they had no role, shareholders were, in some way, our "owners." Yes, I reported to thousands of people wearing Cheeseheads!
Perhaps no team in professional sports is as perfectly positioned for an offering such as this as the Packers. The overwhelming initial response is a clear testament to that.
Follow me on Twitter at adbrandt.