North Team practice notes from day two…
There are some concerns with the game of Oklahoma CB Jamell Fleming, especially when asked to vertically turn and run. However, he plays with good balance in his drop, is clean to re-direct and fluidly can transition out of his back-pedal. In my view he's been the most impressive defensive back on the North roster so far this week and looks like a potential top-60 pick.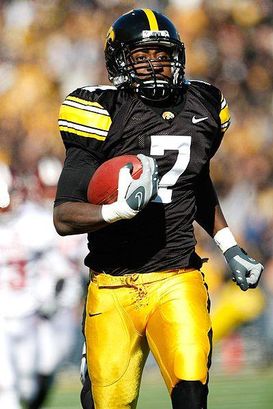 ICONMcNutt has been solid this week.
Iowa State cornerback Leonard Johnson on the other hand has not really found his groove yet this week. He showcased the ability at times to be physical of the line and shoot the proper hand into contact in press coverage. However, he hasn't looked comfortable at all in off-man this week, as he gets upright when asked to drive on the football and fidgety when trying to read and react to routes.
One of the receivers Johnson had trouble with off the line was Iowa's Marvin McNutt. McNutt isn't a real dynamic athlete and isn't a guy who is ever going to be explosive on sharply breaking routes. However, he does a nice job in the three step game, he can adjust well to the football down the field and was able to quickly get off press man today. He has a sneaky quickness to his game off the line and uses his long arms to fend off contact. He's limited, but looks like a potential "X" receiver in the NFL who could hold his own on the strong side.
There has certainly been some improvement to the game of Penn State DE Jack Crawford since the end of the season. He's done a much better job keeping his pad level lower as a pass rusher, extending his arms and playing with better balance. The improved balance has allowed him to be more sudden on contact and more violent with his hands, hence disengaging far better than I thought he would as a pass rusher this week.
Running backs in my view are the toughest players to evaluate during a week of practice at any all-star game. However, even with that being said Washington RB Chris Polk hasn't been real impressive up to this point. He doesn't display much of a first step, there is no real explosive quality to his game and he struggled in pass protection. Overall, he doesn't look like a top three running back prospect to me in the class.
On the other hand, Boise State RB Doug Martin showcased a good first step; natural forward lean and can quickly decipher information at the line of scrimmage and change directions. He's a fluid kid with a thick build and his initial quickness really stood out for a back his size. Looks like a future starting caliber running back at the next level.
Cal OT Mitchell Schwartz did exhibit some natural balance initially in pass protection today. However, he routinely gets too upright which limits his power into contact as well as his balance laterally when trying to mirror. Looks more like a swing offensive tackle at the next level than eventual NFL starter.
Finally, Arkansas State LB Demario Davis did a nice job during 1v1 pass rushing drills Tuesday. He showcased some power when trying to work the bull rush, could dip his pad level around the edge and had some "know how" working his hands in order to shed. He's one of the NFP's favorites and is off to a solid start so far this week.
Follow me on twitter: @WesBunting
Check out the NFP Draft page here…