RB Chris Polk: Washington (5-11, 222)
Much like I saw on tape, Polk didn't display a real explosive quality to his game this week. He does have some foot quickness inside and is more of a "gamer" than practice player, but I was still a bit disappointed in him as an overall athlete.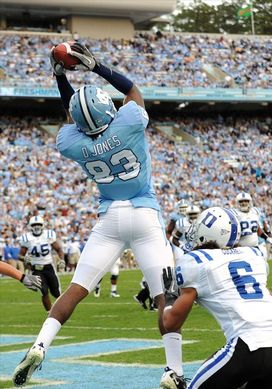 ICONJones had a tough time making plays all week.
WR Dwight Jones: North Carolina (6-4, 225)
If you can't get off press coverage and separate consistently as a route runner, it's tough to receive a high grade as a wide out. Jones struggled with both this week and didn't possess the type of athletic ability needed to develop much further in either area.

OT Zebrie Sanders: Florida State (6-6, 307)
Sanders had a nightmare trying to block power off the edge all week. He lacks a great anchor and would get overextended in order to overcompensate for it. Overall, he looks more like a developmental athlete at the position who has the range/athleticism to make it, but is going to need to get stronger in the lower half in order to have a chance.

WR Jeff Fuller: Texas A&M (6-4, 220)
For a bigger receiver who doesn't run well, Fuller needs to do a better job catching the football. At his size and with his body control he's always open five feet above his head, but poor hands dogged him all week.

TE Michael Egnew: Missouri (6-6, 245)
He didn't look real explosive in any area of the game this week and was tighter in the hips when trying to get out of his breaks. Now, he's a big kid who can go get the football, but didn't possess the range I expected to see from him on tape. Looks more like a mid/later round pick.
Follow me on twitter: @WesBunting
Check out the NFP Draft Page here...