North Team practice notes from day one…
Ohio State OT Mike Adams has a real presence about him. He's a big kid with a long set of arms and when he shoots his hands inside on contact, he has the ability to control blocks and slide his feet through the play. However, the only time he gets himself into trouble is when he doesn't extend his arms and looks to catch opposing lineman at the point. Nevertheless, the talent is there for this guy to be a top-20 pick.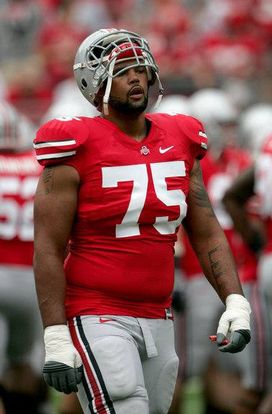 ICONMike Adams looks the part of an NFL left tackle.
On the other hand, I came away unimpressed with Nebraska CB Alfonzo Dennard. He's a compact kid who displays some natural click and close ability. However, he allows his cushion to be eaten up far too much in his drop and lacks much of a burst/second gear when asked to turn and run. He's a guy who opposing receivers were able to routinely outpace today as he didn't demonstrate the type of speed needed to run out of his transition vertically.

One of those receivers who were able to outpace Dennard was Cal's Marvin Jones. Jones had a solid practice Monday showcasing the ability to drop his pad level out of his breaks, get behind corners down the field and adjust to the football. He's got some snap to his game as a route runner and looks like one of those mid-round type wide outs who can fill out a receiving core and make a roster as a rookie.

Boise State safety George Iloka is a tall, long athlete with an athletic build and certainly looks the part in the deep half. He did a nice job Monday anticipating routes in cover one, showcasing a slight burst and covering some ground in the deep half. He still gets a bit leggy at times in his drop and when trying to re-direct. But, possesses some natural athleticism and was consistently putting himself in position to make plays.

In a pretty "blah" pass rushing class, Virginia DE Cam Johnson made the first move to gain some momentum Monday. He showcased a good get off burst, was able to reach the edge and displayed some suddenness when countering back inside. He had a pretty average senior season due to some injuries. However, he looked as healthy as I've seen him all year and is off to a good start this week.

Small school wide out Brian Quick (Appalachian State) looked a bit overwhelmed in his first day of practice vs. the jump in competition. He isn't a naturally explosive kid, takes a bit to get up to speed and doesn't have the second gear to simply outpace corners vertically. Plus, he was leggy out of his breaks, didn't generate much separation on sharply breaking routes and had at least three dropped passes that I counted. Now, obviously he's a better player than his day one performance, but I still don't see the guy as a legit top-100 prospect.

Watching Washington DT Alameda Ta'amu, it's really impressive the kind of raw power he possesses when asked to simply overwhelm opposing lineman through contact. He also has a sneaky quick set of hands when trying to shed and can keep himself clean. However, he has a tough time keeping his pad level down through contact and far too often is easy to block because of it.

Finally, Boise State DE/OLB Shea McClellin had some inconsistencies during 1on1 drills today. As was evidence on tape, he's much more natural getting after the QB with his hand on the ground than standing up. He showcased the ability to turn the corner from a three-point stance on one occasion. But, on his next opportunity he got upright and lacked much suddenness on his counter when trying to create pressure as a stand up guy. He's a talented kid with a "plus" motor, but it will be interesting to see how he develops rushing the passer from a two point stance as the week goes on.

Follow me on Twitter: @WesBunting