NFP's Introduction to Scouting Class is now registering for our next session! Early bird pricing in effect until February 15th! Save $100 and REGISTER NOW!
This is supposed to be the year.
After four consecutive trips to the postseason that saw the curtain fall in defeat at the hands of AFC opposition, 2012 is supposed to be the year the Baltimore Ravens get over the hump. It's supposed to be the year the youthful offense sets the tone on Sundays, not the aging defense.
In essence, it's supposed to be the year when quarterback Joe Flacco breaks through.
At 9-3 and on top of the AFC North standings through 13 weeks, the Ravens are right where they're supposed to be on paper. A fifth-consecutive trip to the playoffs is imminent. Home field advantage throughout the postseason is still within the realm of possibility.
But one can't help but feel an eerie sense of déjà vu in the wake of Baltimore's 23-20 home loss to the Charlie Batch-led Pittsburgh Steelers on Sunday. Falling victim to a divisional rival who happens to own the league's top-ranked defense is no reason to push the panic button. But when your quarterback who was supposed to elevate his game to another level this season comes up empty on the big stage yet again, it's cause for concern.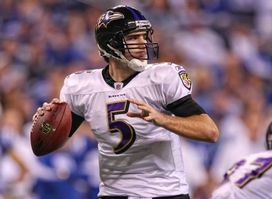 ICONThe Ravens can only go as far as quarterback Joe Flacco leads them.
Joe Flacco is in the final season of a five-year rookie contract that will pay him $6.76 million in 2012. He and agent Joe Linta are ready to cash-in their chips. But the big question facing the Baltimore front office this coming offseason is whether or not the Ravens are ready to open up the bank vault for their 27-year-old quarterback.
Just like there are two sides to every story, there are two sides to Flacco. There's the good side, which has seen the Delaware product become the first quarterback in NFL history to win playoff games in each of his first four seasons while compiling a regular season record of 53-23 since entering the league in 2008. And there's the bad side, which includes a career postseason QB rating of 70.4 and a history of coming up short in some of his team's most momentous of games.
In the struggle for control over the Baltimore offense, Bad Joe Flacco was supposed to suffer his demise at the hands of Good Joe Flacco this season. Seven months after a heartbreaking defeat to the Patriots in the AFC Championship game—a game in which Flacco performed admirably—Good Joe Flacco tore through preseason opposition, completing 71.7% of his passes en route to a QB rating of 101.6. And after scorching the Cincinnati secondary for 299 yards and two scores in a 44-13 blowout win to open the regular season, Bad Joe Flacco appeared content with retirement and Good Joe Flacco seemed poised to get paid.
The Ravens were set to turn the page by ushering in an era in which the defense wouldn't have to do it alone. The offense had arrived to push the franchise over the hump, with Good Joe Flacco leading the charge.
That era lasted all of six days before Bad Joe Flacco came off the bench and took control of Baltimore's offense in a 24-23 loss at Philadelphia. And since that time, Good Joe Flacco and Bad Joe Flacco have been waging war on one another in much the same way we've seen over the last four years.

Flacco's overall performance away from the confines of M&T Bank Stadium this season is cause for alarm, both for his agent and for a team that will likely have to travel for at least one postseason game come January. Baltimore has found a way to post a 4-2 road mark through 13 weeks, but that's come largely thanks to Pro Bowl running back Ray Rice and a defense that has stepped up big in the wake of devastating injuries to both linebacker Ray Lewis and cornerback Lardarius Webb.

When compared to the rest of the quarterbacks in the NFL, Flacco's 2012 stat line is far from what you would call elite. That's not to say the five-year veteran hasn't had his moments, but when jockeying for a long-term payday that will set you up financially for life, there are two factors that matter above all else: Lights-out statistics and championships.
Flacco has neither.
Come February, the Ravens will have three avenues with which they can choose to pursue when addressing Flacco's contract situation. The team can apply one of two franchise tags, offer a multi-year deal or let their quarterback enter the free agent market, with this latter option serving as the most unlikely of the three.
Interestingly enough, the path the Ravens choose to follow will likely be determined not by members of the Baltimore front office, but by Flacco himself. A Super Bowl win in February would guarantee a highly-lucrative, long-term contract, while a berth in the league's ultimate game could possibly yield the same result.
But another February spent on the golf course rather than in meetings preparing for the Super Bowl will likely give rise to a somewhat contentious state between the quarterback and the Baltimore brass. Flacco and Linta will want a multi-year deal, while the Ravens could push to use either the exclusive franchise tag (at a cost of approximately $16.4 million) or non-exclusive franchise tag (unknown at the moment, but estimated to be approximately $14.5 million). In essence, either franchise tag would give Flacco a one-year "prove it" contract.
The good news for Flacco is that he's in control of his own destiny. At 9-3, the Ravens have put themselves in position to challenge for the Vince Lombardi Trophy.
Whether or not Baltimore wins that trophy will come down to Good Joe Flacco's ability to defeat Bad Joe Flacco when the heat is turned up and the stakes are at their highest. Remember, this is supposed to be Flacco's breakout year.
It's supposed to be the year the Ravens win it all.
Hit me up on Twitter: @JoeFortenbaugh