NFP's Introduction to Scouting Class is now registering for our next session! Early bird pricing in effect until February 15th! Save $100 and REGISTER NOW!
The end of running back Marshawn Lynch's holdout doesn't appear to be anywhere in sight with both sides firmly entrenched in their respective positions. The Seattle Seahawks expect Lynch to play under the four-year, $30 million contract (with $17 million in guarantees and additional $1 million in incentives) he signed in 2012 while Lynch would like his contract redone.
Lynch is subject to a fine of $30,000 for each day of training camp he misses during his holdout. Since Lynch's holdout reached six days on Tuesday, the Seahawks can also recoup $225,000 of his $6 million signing bonus. 15 percent of the $1.5 million prorated amount of Lynch's signing bonus became recoverable on the sixth day of his holdout. Another one percent ($15,000) can be recouped for each additional missed day with a maximum of 25 percent of the prorated amount ($375,000) forfeitable during training camp. An additional 25 percent can be recovered if Lynch misses Seattle's first regular season game. After four missed weeks of the regular season, the Seahawks can recover 1/17th of the prorated amount ($88,235) for each additional week of Lynch's absence. The most that can be recouped from Lynch's signing bonus during 2014 is $1.5 million, the entire prorated amount of his signing bonus. Teams will typically reduce or waive the penalties accumulated as a gesture of goodwill once a player ends his holdout.
Contrary to reports, Lynch isn't subject to a fine of one week's base salary (1/17 of $5 million) for each pre-season game missed, which would be $294,117 per game. This fine is applied to players who signed contracts as unrestricted free agents. Lynch signed his current deal about a week before he was scheduled to become an unrestricted free agent.
The Seahawks are content to follow their "Next Man Up" philosophy with 2013 second-round pick Christine Michael and 2012 fourth-round pick Robert Turbin serving as the primary ball carriers during Lynch's absence. Michael and Turbin are the main components of Seattle's succession plan at running back. The team was already planning on reducing Lynch's workload before the holdout. The 28-year-old has a league-leading 901 rushing attempts over the last three seasons as the centerpiece of Seattle's run-oriented offense. There has been speculation that the Seahawks could release Lynch in 2015.
Lynch is adequately compensated by most standards. Although Lynch is currently the NFL's sixth-highest paid running back by average salary at $7.5 million per year, he ranks third in the NFL in rushing yards (2,847), first in rushing touchdowns (23) and tied for fourth in yards from scrimmage (3,359 yards) since signing his deal. Lynch has the fifth-best cash flow in the first three years of running back deals ($22.5 million). He's also fifth in compensation for running backs over the last two years with $17 million, ranking behind only Ray Rice ($25 million), Arian Foster ($23.5 million), Adrian Peterson ($19.75 million) and Chris Johnson ($18 million).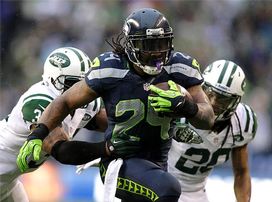 Should Lynch honor his current contract or does he deserve a raise?
Lynch is in a different financial situation than Jamaal Charles, who received an additional $5.1 million over the remaining two years of his deal as a part of a two-year, $18.1 million contract extension signed on August 23. Charles was dramatically underpaid. The $18.57 million Charles made from 2010 to 2013 was $1.57 million less than Lynch earned over the last two years.
The Seahawks don't have any plans to deviate from their position but might be able to quickly end the stalemate by extending an olive branch to Lynch where they attempted to rework his deal within its existing framework. Interestingly, fans are almost evenly split on Lynch's holdout according to an ESPN.com poll. 51.2 percent are in favor of reworking his contract while 48.8 percent think Lynch should honor his deal.
Lynch is scheduled to make $5.5 million this year with a $5 million base salary and $500,000 as a per game 46-man active roster bonus ($31,250 per game). His 2015 salary is $7.5 million consisting of a $5.5 million base salary and $2 million as a per game 46-man active roster bonus ($125,000 per game). Lynch also has a $500,000 incentive in each of these years for 1,500 or more rushing yards.
One easy cosmetic change would be to convert Lynch's $500,000 roster bonus into base salary to ensure that he earned the money. The per game amount is only payable if Lynch is on the 46-man active roster for that particular game. For example, if Lynch suffered a season-ending injury during Seattle's fourth game of the season, he would only earn $125,000 of his $500,000 roster bonus. Percy Harvin, Richard Sherman and Earl Thomas don't have per game roster bonuses in their contracts. Per game roster bonuses were a rarity in Seattle contracts when Lynch signed in 2012, but have started becoming more prevalent in their deals. Michael Bennett has $1 million and $1.5 million of per game roster bonuses in the last two years of the four-year contract he signed this off-season.
The Seahawks could convert this year's $500,000 rushing yards incentive into 2014 base salary, if not the entire $1 million in incentives for both years. The conversion would use $1 million of Seattle's $7.55 million of existing salary cap room (includes Lynch's $5 million base salary in calculations which isn't counting while he is holding out). If the Seahawks wanted to spread out the cap hit over two years, the $1 million could be a signing bonus instead. The Seahawks are in good shape cap wise in 2015, with $116.922 million of cap commitments (top 51 players).
Another possibility would be to also fully guarantee a small portion (no more than $1 million) of Lynch's $5.5 million 2015 base salary. As an alternative, the amount guaranteed could be tied to Lynch's 2014 performance. Seattle would insist on any 2015 guarantees containing an offset so Lynch couldn't "double dip" (get paid Seattle's guarantee and the entire amount of his contract with another team) if he's released next year. Additionally, Seattle could convert Lynch's $2 million per game roster bonus in 2015 or $2 million of 2015 base salary into a first day of the 2015 league year roster bonus. If Lynch wasn't a part of Seattle's plans next year, he would hit the free agent market while teams had all of their cap room available to sign players.
Another impediment to reworking Lynch's deal is that NFL teams are reluctant to establish contractual precedents, especially a precedent of giving into a player's demands for a new contract through a holdout. Although teams should be able to easily make distinctions based on each player's particular circumstances, they don't want to send a signal to the other team members that they could get rewarded by holding the team hostage. Seattle doesn't want to give Sherman or Thomas ammunition to approach them about renegotiating their deals in a couple of years because of how they handled Lynch's situation.
Seattle did make some changes to Brandon Browner's contract last year to give him the opportunity to earn an additional $250,008 in the final year of the three-year deal he signed in 2011. Browner received a $125,000 signing bonus and $125,008 as a per game 53-man roster bonus ($7,813 per game). Browner's situation can be differentiated because he was only making minimum salary in his deal and a portion of the salary increase may have been a reimbursement for him accepting a four-game performance enhancing drugs suspension without pay at the end of the 2012 regular season instead of appealing so he would be available during the playoffs.
Outside of a serious injury at running back or extremely poor performance of the rushing attack during pre-season games, it's hard to envision anything else that could shift leverage before the start of the regular season. Unless Seattle eventually softens its stance, Lynch's holdout will likely end the same way Maurice Jones-Drew's did with the Jacksonville Jaguars in 2012. Jones-Drew returned to the Jaguars at the end of the pre-season without getting his contract adjusted.
Follow Joel on Twitter: @corryjoel
Joel Corry is a former sports agent who helped found Premier Sports & Entertainment, a sports management firm that represents professional athletes and coaches. Prior to his tenure at Premier, Joel worked for Management Plus Enterprises, which represented Shaquille O'Neal, Hakeem Olajuwon and Ronnie Lott. You can email Joel at jccorry@gmail.com.