NFP's Introduction to Scouting Class is now registering for our next session! Early bird pricing in effect until February 15th! Save $100 and REGISTER NOW!
When the 2013 regular season kicks off on September 7 against San Jose State, Stanford fans will once again be able to count on the Cardinal having a tough, physical defense.
Shayne Skov will lead a unit that will feature fellow fifth-year seniors Trent Murphy and Ben Gardner as well as senior Henry Anderson up front, while the secondary will be anchored by proven safeties in senior Ed Reynolds and junior Jordan Richards.
With the defense expected to be the best in the Pac-12 once again and a schedule that features home games against Oregon and Notre Dame, it's not unreasonable to think that the Cardinal could reach Pasadena for the BCS title game. We saw last season how well they match up defensively with the Ducks, and the physical nature they bring on defense matches up well with the Irish, too. A road game at USC looks less difficult these days, so a potential Pac-12 title game could have a lot of significance for the Cardinal.
While the defense will remain special, head coach David Shaw is very excited about the development of his offense, and it all begins with young quarterback Kevin Hogan.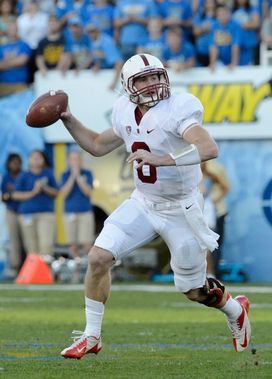 US PRESSWIREStanford's Kevin Hogan helped stabilize a position that was a bit shaky with Josh Nunes at the helm.
Shaw told me earlier this spring that the offensive staff had a constant desire to protect Hogan last year because of how late in the season he started to play. Hogan, of course, replaced Josh Nunes as the starter and helped the team finish 5-0, including the road win at Oregon and the team's first Rose Bowl victory since 1972.
This spring, however, Shaw said that the coaches decided to "push the envelope with him" both in the passing game and on the ground, and they feel that the QB has the mental make-up and poise to work with the full playbook in midst of an offseason as the unquestioned starter.
While the Cardinal will always be known for their physical run-first attack, Hogan's athleticism has been overlooked in a league with a lot of true dual-threats. But he will get a chance to display his running ability even more in the fall, and he'll have more opportunities to take shots down the field when the time is right with the staff putting more on his plate this spring.
In addition to the continued development of Hogan, Shaw told me that he has been really pleased with a group of young receivers that must step up with productive tight ends Zach Ertz and Levine Toilolo no longer in Palo Alto. The Cardinal have a variety of skilled players at WR, although it is a young group. But junior Ty Montgomery has all of the physical tools to be one of the Pac-12's best if he can be consistent week to week. And sophomore Michael Rector showed difference-making speed in the team's spring game. Shaw believes there are young receivers ascending, which will help Hogan in the team's quest to open up the offense a bit.
What struck me most when talking to Shaw, though, was his use of the term "embarassment of riches" to describe the team's backfield situation. Although all-time leading rusher Stepfan Taylor has moved on, the Cardinal catch a break with Tyler Gaffney returning to the team to join Anthony Wilkerson and Kelsey Young in what is shaping up to be a committee situation, something that Shaw described as "positive" when a lot of coaches frown upon not having a clear-cut No. 1 back. He said he has been impressed by the way all of the backs pull for one another, and he believes each back has strengths that complement one another well. The most intriguing aspect of the backfield unquestionably is Barry Sanders, a true X-Factor who should have a package of plays designed for him. Keep an eye on him as a pass-catcher out of the backfield this fall.
Coming off of a victory over Wisconsin at the Rose Bowl in Pasadena, the Pac-12 defending champs just may be ready to once again reach Pasadena — but this time play for the national championship in the final year of the BCS system.
And a lot of that optimism stems from the high hopes for Hogan and the offense.