NFP's Introduction to Scouting Class is now registering for our next session! Early bird pricing in effect until February 15th! Save $100 and REGISTER NOW!
LIVE CHAT
My apologies for the technical issues we encountered during last week's chat, but keep in mind that if you ever miss one of our Q&A sessions or if said technical issues resurface in the future, you can always reach me on twitter @JoeFortenbaugh and via email at Joe.Fortenbaugh@NationalFootballPost.com on Sunday mornings to have all of your questions answered.
Due to a Sunday morning radio spot, we're adjusting the time for this week's chat, which will now begin at noon eastern and will run for at least 45 minutes. The chat will be located under the "Hot News and Rumors" section on the NFP homepage.
WEEK 5 SURVIVOR PICK
Last week: Denver Broncos over Philadelphia Eagles (won)
Plan B: New Orleans Saints over Miami Dolphins (won)
Already played: Indianapolis Colts (WK 1), Baltimore Ravens (WK 2), Seattle Seahawks (WK 3), Denver Broncos (WK 4)
This week: ATLANTA FALCONS over New York Jets
Plan B: ST. LOUIS RAMS over Jacksonville Jaguars
Why: At 1-3, the Falcons are up against the wall entering the team's Week 5 showdown with a New York Jets squad that is scoring just 17.0 points per game (29th in NFL) and will be without starting wide receivers Santonio Holmes and Stephen Hill. Further, New York is already 0-2 on the road this season while the Falcons are 23-10 against the spread over their last 33 games following a straight-up loss. St. Louis looks appealing, but Matt Ryan and the Falcons get the edge.
MISFIRE OF THE WEEK
Last week: Kansas City Chiefs (-4) over New York Giants (win)
Season: 2-2-1
PICK: CINCINNATI BENGALS (PK) over New England Patriots
Analysis: The Bengals are 2-0 both straight-up and against the spread at home this season and have to be kicking themselves for coming out flat against the Cleveland Browns in Week 4. That blunder cost the team a chance to seize control of the AFC North. The Patriots hit the road for the second time in two weeks and are just 1-6 ATS over their last seven games after amassing more than 250 passing yards in their previous contest. Meanwhile, Cincinnati is 5-1 ATS over their last six home games and 9-3-1 ATS over their last 13 games overall. You're going to get the Bengals who beat Green Bay this week, not the Bengals who flopped at Cleveland.
LVH SUPERCONTEST SELECTIONS
Last week: 5-0
Season: 12-7-1
WEEK 5
CINCINNATI BENGALS (-2) vs. New England Patriots
INDIANAPOLIS COLTS (+3) vs. Seattle Seahawks
GREEN BAY PACKERS (-7) vs. Detroit Lions
SAN DIEGO CHARGERS (-4.5) at Oakland Raiders
ATLANTA FALCONS (-9.5) vs. New York Jets
CLICK HERE to check out all of the current Week 5 lines.
START 'EM UP
Michael Vick, QB, Philadelphia Eagles (at NY Giants): Vick came up empty at Denver in Week 4 (248 passing yards, zero touchdowns), but should rebound nicely Sunday in New York against a Giants team that currently ranks dead last in the league in scoring defense (36.5 pts/gm) while surrendering an average of 25.9 fantasy points per game to opposing quarterbacks this season (sixth-most in NFL). Big Blue is a mess on defense at the moment and with Vick always one snap away from a season-ending injury, owners might as well take advantage of the favorable spots while the Philly signal-caller is still healthy.
Eddie Lacy, RB, Green Bay Packers (vs. Detroit): Lacy has been practicing all week (concussion) and looks ready to go for Week 5, where the rookie from Alabama will smash into a Detroit defense that currently ranks 20th in the NFL against the run (110.8 yds/gm) while giving up an average of 23.2 fantasy points per game to opposing running backs this season (fourth-most in NFL). It's unlikely that Lacy will handle the rock 20+ times in this matchup, but he should see enough action to generate a solid stat line.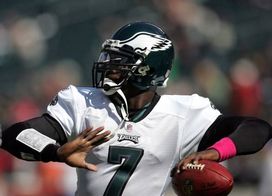 ICONIf Vick can't roll up the numbers against New York, the Eagles have a big problem on their hands.
Denarius Moore, WR, Oakland Raiders (vs. San Diego): Is averaging 6.5 targets per game with two scores in four starts heading into Sunday night's divisional clash with a seriously shaky San Diego defense that is allowing 312.2 yards per game through the air this season (29th in NFL) while giving up an average of 29.7 fantasy points per game to opposing wide receivers in 2013 (fifth-most in NFL). We consider Moore a solid WR3 for owners in leagues with 12 or more teams.
DeMarco Murray, RB, Dallas Cowboys (vs. Denver): The only way to have a shot at slowing down Peyton Manning and the Denver Broncos is to keep the ball away from the future Hall of Fame quarterback. That requires both converting on third down and establishing the run game. Look for Murray to handle a serious workload Sunday against a Broncos defense that is surrendering an average of 22.5 fantasy points per game to opposing running backs this season (sixth-most in NFL).
Tavon Austin, WR, St. Louis Rams (vs. Jacksonville): The Rams didn't trade up eight spots in the first round of the 2013 draft to land Austin just so they could avoid throwing him the football, which makes Week 4's two-reception effort against San Francisco look all the more embarrassing. Expect St. Louis to put more of an emphasis on getting Austin the rock in Week 5 against a Jaguars defense that is surrendering an average of 23.6 fantasy points per game to opposing wide receivers this season (16th in NFL).
Greg Olsen, TE, Carolina Panthers (at Arizona): Olsen has been targeted a healthy 26 times and is averaging a respectable 64.6 receiving yards per game so far in 2013, so you know quarterback Cam Newton enjoys looking his way. In addition, the former Chicago Bear has an extra week of rest under his belt for Sunday's showdown with an Arizona defense that is giving up an average of 15.4 fantasy points per game to opposing tight ends this season (second-most in NFL).
St. Louis Rams, D/ST (vs. Jacksonville): They've been suspect at best this season, but have a home date in Week 5 against a Jaguars offense that is averaging a league-worst 7.8 points per game this season. Yes, wide receiver Justin Blackmon is back from his four-game suspension, but this is still a strong play against a really bad offense.
SIT 'EM DOWN
Russell Wilson, QB, Seattle Seahawks (at Indianapolis): He's thrown just six touchdown passes through four games (four of which came against the Jaguars in Week 3), is averaging only 196.7 passing yards per game, is on the second leg of back-to-back road contests, is playing behind a banged-up offensive line and goes against an Indianapolis defense in Week 5 that is surrendering an average of just 14.4 fantasy points per game to opposing quarterbacks this season (fewest in NFL). Anything else you need to know?
Chris Johnson, RB, Tennessee Titans (vs. Kansas City): The schedule gets much easier for Johnson in the coming future, but for now, the Tennessee running back is a man with exactly zero touchdowns and zero 100-yard efforts through the first four games of the season. To make matters worse, Johnson runs into a Kansas City defense on Sunday that is currently giving up an average of just 12.2 fantasy points per game to opposing ball-carriers this season (t-second-fewest in NFL).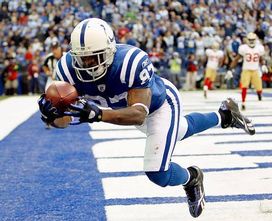 Wayne faces his toughest matchup of the season Sunday against Seattle.
Reggie Wayne, WR, Indianapolis Colts (vs. Seattle): Still producing solid stat lines at 34-years-of-age, Wayne runs into cornerback Richard Sherman and the Seattle Seahawks in Week 5, who currently rank fourth in the league against the pass (191.2 yds/gm) while allowing fewer fantasy points to opposing wide receivers than any other team in the business (13.2 pts/gm). Wayne should see his fair share of targets, but we don't expect significant production from those opportunities.
Lamar Miller, RB, Miami Dolphins (vs. Baltimore): Miller's had a decent start to the year with trips to the end zone in two of his last three outings, but the former Hurricane is averaging only 10.7 rushing attempts per game and faces a Ravens defense this Sunday that is surrendering an average of only 12.2 fantasy points per game to opposing running backs this season (t-second-fewest in NFL).
Anquan Boldin, WR, San Francisco 49ers (vs. Houston): Has amassed a staggering 36 targets through four outings with 24 receptions and two scores, but takes on a Houston secondary Sunday that currently ranks first in the NFL in pass defense (141.0 yds/gm) while permitting an average of only 15.8 fantasy points per game to opposing wide receivers (third-fewest in NFL). San Francisco's had ten days of rest in preparation for this non-conference showdown, but Houston is out for redemption following last Sunday's meltdown against Seattle.
Martellus Bennett, TE, Chicago Bears (vs. New Orleans): Bennett notched three scores over his first two outings before getting blanked in Weeks 3 and 4, but owners still have to be impressed with the production from the 26-year-old former Giant. Unfortunately, we see Week 5 as another blank for Bennett, who runs into a revamped New Orleans defense that is surrendering an average of just 6.1 fantasy points per game to opposing tight ends this season (eighth-fewest in NFL).
New York Jets, D/ST (at Atlanta): Better than advertised is a good way to put it, as Rex Ryan's Jets currently rank second in the NFL in total defense. But Week 5 is not the time to insert this unit into your starting lineup, as Gang Green hits the road (0-2 away from home this season) for a Monday night showdown with a desperate Atlanta Falcons offense that is permitting only 6.0 fantasy points per game to opposing D/STs this season (t-third-fewest in NFL).
Hit me up on Twitter: @JoeFortenbaugh