NFP's Introduction to Scouting Class is now registering for our next session! Early bird pricing in effect until February 15th! Save $100 and REGISTER NOW!
Some quick notes from the Week 8 Early kickoffs…
More Bradford: The rookie QB continues to develop. You can see it when you watch him play because of the decisions he makes with the football. Doesn't force the ball, can make plays out of the pocket and is reading coverages like a veteran player. 25-32 for 191 and 2 TDs. Impressive.
Chiefs' running game: Had to work to get that OT win against Buffalo, but how can we not talk about the combo of Jamal Charles and Thomas Jones? This is Charlie Weis' offense right now. Charles (who is very patient for a speed back) carries 22 for 177-yards and Jones racks up 77-yards on 19 carries. Matt Cassel and rookie TE Tony Moeaki make some plays in OT to set up the winning field goal, but this is an offense that is predicated on running the football.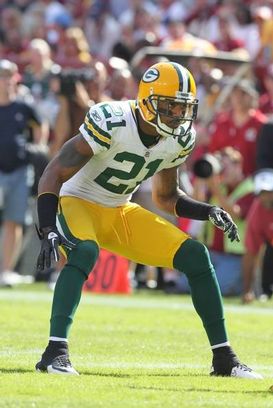 ICONWoodson and the Packers shut out the Jets.
Packers' DBs: Love watching defensive backs challenge receivers, and that is what I saw from the Green Bay secondary today. Woodson, Williams, etc. They broke on routes in the 3-step game, made plays on the ball and were part of a defense that put Jets' QB Mark Sanchez (16-38-256-2 INTs) in 3rd down situations—which led to the shutout. Great game plan from defensive coordinator Dom Capers that we will get into more tomorrow. Big time road win for the 5-3 Packers.
Calvin Johnson: Won the majority of one-on-one matchups vs. Redskins CB DeAngelo Hall. There is no reason he shouldn't be featured in every game the Lions play because he is so strong once the ball is in the air—especially in the red zone. The fade, the slant, the inside seam and the 7 route. A number of options for Johnson inside of the 20-yard line. 9 receptions for 101-yards and 3 TDs in the Lions win over the Redskins.
Carson Palmer/ Bengals: Forget the numbers. Down by eight and driving, Palmer throws a pick that seals the win for Miami. Can make a case that WR Terrell Owens (who showed his age in the underneath game) didn't finish the route, but it still goes back to the QB. I'm shocked at how inconsistent Palmer has played this entire season.
More Dallas mistakes: This time it was backup quarterback Jon Kitna who threw 4 INTs, but we can also talk about this Dallas defense that gave up four TD passes and allowed Maurice Jones-Drew to run for 135-yards. The Cowboys are a bad football team right now.
Troy Smith/ Niners: Perfect game plan for Smith's first career start. Run the ball with Frank Gore (29-118) against a soft Denver defensive front and limit the amount of chances he has to take. Is it good enough to get him another start for Mike Singletary's team? I think that 12-19 for 196 and the win is better than this team has had for the most of 2010.
Another Tebow TD: You know it is going to make the highlights, so let's discuss it really quickly. Bring Heavy personnel on the field, put Tebow in the gun, and run the Power O (FB kick out, Guard pull). The same running scheme he scored on against the Jets. Only difference? Different personnel and a different alignment. Window dressing.
Follow me on Twitter: MattBowen41