NFP's Introduction to Scouting Class is now registering for our next session! Early bird pricing in effect until February 15th! Save $100 and REGISTER NOW!
It didn't take the defending AFC Champions long to get into the spending spirit on Tuesday, as the Denver Broncos made a big move to upgrade their defense less than 90 minutes into the start of the new league year.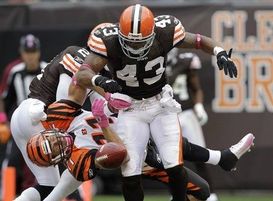 The heavy-hitting Ward will give the Denver secondary some teeth.
Per ESPN's Adam Schefter and confirmed by Executive Vice President of Football Operations John Elway, the Broncos have reached an agreement with free agent safety T.J. Ward. Early reports indicate that the deal averages $5.5 million per year, which is surprising, considering the Cleveland Browns (Ward's former team) are paying new safety Donte Whitner approximately $7 million per year. In addition, at first glance it also appears that the Philadelphia Eagles are paying safety Malcolm Jenkins almost the same per year as Ward got with Denver.
Ward, a four-year veteran out of Oregon, amassed 323 total tackles, 3.5 sacks and five interceptions in 54 career games with the Browns. He should provide a noticeable boost to a Denver secondary that generated 17 interceptions in 2013 (12th in NFL).
Hit me up on Twitter: @JoeFortenbaugh