NFP's Introduction to Scouting Class is now registering for our next session! Early bird pricing in effect until February 15th! Save $100 and REGISTER NOW!
In January of 2013, Steve Keim was promoted to general manager of the Arizona Cardinals. His first order of business was to hire a head coach and he immediately brought in Bruce Arians. Since then, a lot has gone right for the Cardinals.
Arizona finished the 2013 season with a 10-6 record which, in most seasons, will get a club into the playoffs. But that wasn't the case for the Cardinals, who unfortunately missed out on a playoff berth. Still, the Cardinals went 7-2 over their last nine games and have a lot of momentum going into 2014. Their main problem is that they play in the ultra-competitive NFC West which, right now, is the best division in the NFL.
Can Arizona reach the playoffs in 2014? Let's look at the roster.
Quarterback
Carson Palmer is the man in Arizona. He had one of his best seasons as a pro last year, throwing for over 4,200 yards and 24 touchdowns. Still, he needs to improve, as Palmer threw 22 interceptions as well. That number has to come down.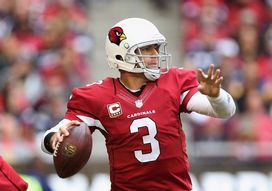 Does Palmer have enough gas left in the tank to get the Cardinals to the playoffs?
Since this is Palmer's second year in Arians' system, he should feel more comfortable. The only things working against him are age (he is 35 this season) and the lack of mobility he had as a younger player.
The backup will be nine-year veteran Drew Stanton. While Stanton has talent, he hasn't thrown a pass other than in the pre-season in three years. The Cardinals drafted Virginia Tech's Logan Thomas to be a developmental guy, but I don't think you will ever see him as an NFL quarterback. He lacks the instincts to play the position in the pros. Still, with his size and arm strength, Thomas will get every chance to succeed.
Offensive line
With Palmer lacking any kind pf mobility, the offensive line will play a key role in the Cardinals' success. The have to give Palmer time to throw.
The key addition for Arizona during the off-season was the signing of Jared Veldheer away from Oakland to play left tackle. Veldheer is just beginning to come into his own as a player and gives Arizona a quality left tackle.
Who plays right tackle will be determined during training camp. Three guys are battling for the job, with Bradley Sowell leading the pack entering camp. The others in contention are Bobbie Massie and third-year man Nate Potter. What hurts Potter is a lack of natural size, but he has the athleticism to also play inside.
Last year's first-round pick in Jonathan Cooper missed his rookie season with a broken leg. He is healthy and will give the Cards a very strong and athletic left guard. The right guard should be second-year man Earl Watford. Like Cooper, Watford is very athletic and explosive. At center is the consistent Lyle Sendlein, who is the group leader and makes all the line calls. Brought in to compete at center and guard is Ted Larson, who was with Tampa Bay last year.
Running back
Earlier this spring, leading rusher Rashard Mendenhall retired. Also, former second-round disappointment Ryan Williams was cut. With those players gone, the lead running back becomes second-year man Andre Ellington, who ran for 652 yards as well as a 5.5-yards per carry average last season. While Ellington isn't built to be a 20-carry per game guy, he just may have to assume that role, as there is not a lot of depth at the position.
The two backups will be Stefan Taylor, who is an explosive inside runner, and free agent Jonathan Dwyer. Both Dwyer and Taylor are similar in that they are inside pounders. Ellington is the more elusive big-play threat with speed to get outside and the hands to be a factor in the passing game.
Receivers and tight ends
Even though Larry Fitzgerald's production has slipped a bit over the last couple of years, he is still one of the most respected receivers in the game. He caught 85 passes and notched ten touchdowns a year ago.
Opposite Fitzgerald is third-year man Michael Floyd. Like many receivers, it took Floyd a year to get acclimated to the NFL. Last he finished with 65 receptions for over 1,000 yards. He is just beginning to scratch the surface of what he can be.
The slot receiver should be the speedy Ted Ginn, who was signed away from Carolina. He is also a respectable return man. Keep an eye on rookie John Brown from Division II Pittsburg State. Brown has 4.3 speed, but will need to adapt to the NFL. He may be a year away from being a big contributor.
At the tight end position the Cardinals brought in John Carlson from the Vikings. Carlson is a very steady, consistent player who is good as both a blocker and receiver. In the second round, Arizona took Notre Dame tight end Troy Niklas, who only played the position for two years. He was previously a defensive player. Niklas is an outstanding blocker, but is raw as a receiver. He missed a lot of practice time during OTA's after having sports hernia surgery in the spring.
Defensive line
Arizona has a strong defensive line and after the draft they have enough solid contributors to play a rotation. The starting ends are Calais Campbell, who is entering his seventh year and keeps getting better, and Darnell Dockett, who has been a consistently good player for over ten years.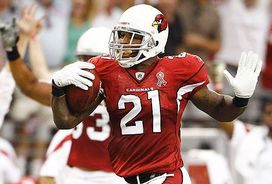 Peterson has become one of the best cornerbacks in the game.
The depth at the end position comes from rookies Kareem Martin and Ed Stinson. Stinson, who played at Alabama, is a perfect 5-technique type. Martin is an athletic pass rusher and may also play on his feet at time.
At the nose tackle position is starter Dan Williams, who is a tough run stopper, and Alameda Ta'amu, who is coming off ACL surgery. Frostee Rucker is a valuable veteran reserve on the D-Line.
Linebackers
The linebacker unit has to overcome two huge losses. Karlos Dansby left via free agency and Daryl Washington has been suspended by the league. One of the new starters will be 2013 second-round pick Kevin Minter. Minter has the physical tools to be outstanding, he just has to settle down and play.
The other starter inside may be free agent Larry Foote. While Foote's best football is behind him, he still has the experience to play a mistake-free game.
On the outside, one starter will be old pro John Abraham. Abraham may be 36-years-old, but he went to the Pro Bowl last season. On paper, the other starter outside is Sam Acho, who is coming off an injury. He will be challenged by Matt Shaughnessy, who contributed after being signed as a free agent away from Oakland last year. The other player who will challenge is Lorenzo Alexander, who is more known for his special teams play.
Secondary
When you talk about the Arizona secondary, the first player who comes to mind is All-Pro corner Patrick Peterson. Peterson is entering his fourth year in the league and is already one of the premier players at the position.
The other corner will be Antonio Cromartie, who is a tall shut-down CB who can be very physical. With the signing of Cromartie, last year's starter in Jerraud Powers figures to be the nickel corner. Those three give Arizona a very strong corner group.
Who starts at safety is still a question mark. Tyrann Mathieu played great football as a rookie, but suffered a knee injury late in the season and might not be ready to go at the beginning of camp.
First-round pick Deone Bucannon should be the other starter. While I agree that Bucannon is talented, I didn't see him as a first-round pick. The depth at safety is Tony Jefferson and Rashad Johnson.
Outlook
If the Cardinals played in any other division besides the NFC West, they may very well be a favorite to win the division. The problem they have is that both Seattle and San Francisco are not only in their division, but they are two of the best teams in the NFL. That said, Arizona has to work just to be a wild card selection.
If the Cardinals find stability at the linebacker position, Arizona could very well duplicate last year's 10-6 record. That should get them a spot in the playoffs.
Follow Greg on Twitter: @greggabe