NFP's Introduction to Scouting Class is now registering for our next session! Early bird pricing in effect until February 15th! Save $100 and REGISTER NOW!
Going into the 2013 season, many figured that the Houston Texans were set to make a run at the Super Bowl. Not only did that notion fail to materialize, but the Texans wound up finishing with the worst record in the NFL.
Changes were made. Gary Kubiak was replaced as head coach by former New England offensive coordinator and Penn State HC Bill O'Brien. Long-time quarterback Matt Schaub was traded to the Raiders. What we will see in Houston in 2014 will not resemble what we saw the last few years.
While the Texans personnel is strong in some areas, it is weak in others, especially at the most important position on a football team: Quarterback.
Quarterback
Back in February and March, many draft analysts had the Texans taking a quarterback with the first pick in the draft. When general manager Rick Smith and Head Coach Bill O'Brien felt there wasn't a quarterback worthy of that selection, the Texans went in another direction and chose defensive end Jadeveon Clowney. What was surprising was that the Texans waited until the fourth round to finally select a quarterback, nabbing Tom Savage from Pittsburgh.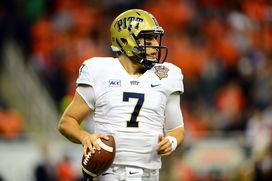 Is Tom Savage the future of Houston quarterbacking?
Savage has ideal size and a strong arm, but little else. During his college career he was on three different teams (Rutgers, Arizona and Pitt), and because of all the transfers, his playing time was limited.
Savage has some tools to work with, but he is a developmental prospect at best and it might be three years before he is ready to start. In the meantime, going into camp, the starter looks like it may be Ryan Fitzpatrick. Fitzpatrick is a very smart journeyman quarterback who can win some games, but he will never lead a team to the playoffs.
The only other option is Case Keenum, who in reality isn't an option. He just doesn't have the traits to be anything more than a club's third quarterback.
Receivers and tight ends
The Texans' best receiver is in a contract dispute and wants to be traded. Andre Johnson has been one of the game's elite pass-catchers for years, but doesn't want to go through a rebuilding process. While he wants to be traded, the Texans are under no obligation to do so. These things always have a way of working themselves out.
Last year's first round pick in DeAndre Hopkins had a very good rookie year with 52 receptions and should be even better in 2014. If Johnson is traded, Hopkins has to be ready to assume the number one role.
Behind, Johnson and Hopkins, the Texans don't have much. Keshawn Martin is a very good kick returner and an ideal slot receiver, but he needs to develop consistency as a receiver so that he can be counted upon. DeVier Posey has talent and can play both inside and outside, but has to overcome durability concerns.
At tight end, Owen Daniels is gone. His likely replacement is Garrett Graham, who had 49 catches a year ago. The player I feel will play a big role in 2014 is rookie C.J. Fiedorowicz. Fiedorowicz has great size and power and is an ideal "Y," but he can also be used on the move. Ryan Griffin, who is in his second year, also figures into the rotation. He played well during the second half of 2013.
Running back
When Arian Foster is healthy, he is one of the premier running backs in the NFL. The problem is that he hasn't stayed healthy the last couple of years. One of the reasons Foster was not drafted coming out of college was due to health concerns. If the Texans are going to have a successful ground game, Foster has to be ready to go.
Behind Foster is free agent acquisition Andre Brown. Like Foster, Brown had durability issues while with the Giants. Rookie Alfred Blue from LSU also figures into the mix. Blue has ideal size and is very talented, but he had an issue getting playing time at LSU with their strong corps of runners.
Offensive line
The key to a successful offense is a strong offensive line. Last year, the line play in Houston was inconsistent at best.
The Texans are set at left tackle and center, from there it remains to be seen who will start. The left tackle is Duane Brown, who has been to a couple of Pro Bowls. At center, ten-year vet Chris Myers makes all the line calls and is the unquestioned leader.
The right guard should be Brandon Brooks, who has great size and strength, but has to develop his overall consistency. Rookie Xavier Su'a-Filo will play left guard. Su'a-Filo started at both guard and tackle while at UCLA, but was a much better player when at guard.
The right tackle spot is up for grabs. Derek Newton was the starter a year ago but like some of his line mates, played inconsistent ball. The Texans would like it if Brennan Williams could challenge Newton for the starter's job.
Defensive line
New defensive coordinator Romeo Crennel is not changing the base 3-4 scheme that the Texans have used for years. However, he will most likely change how the scheme is run.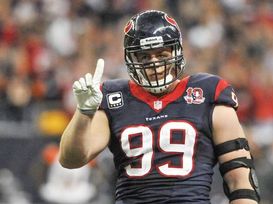 Sack specialist J.J. Watt leads the Houston defense under new DC Romeo Crennel.
The Texans have one of the best defensive linemen in football in J.J. Watt, who is going into only his fourth year and is clearly a dominating factor in every game. Opposite Watt will probably be Jared Crick, who will replace the departed Antonio Smith. Crick played in the rotation a year ago.
Expect to see two new faces rotating at the nose tackle position. Rookie Louis Nix III was a third-round steal, as many believed he would go at the bottom of the first. Nix is basically a two-down player who provides little pass rush, which is why he lasted until the third round.
Behind Nix will be free agent Jerrell Powe. Powe has great size but has been an inconsistent player his whole career.
The backups at the end positions will be Tim Jamison and rookie Jeoffrey Pagan from Alabama. Pagan played in an NFL style 3-4 while at Alabama and should be a good rotational player.
Linebackers
Obviously the big addition at linebacker is first overall pick Jadeveon Clowney. Clowney was a down defensive end at South Carolina, but will line up as an outside linebacker in Houston. Still, on passing downs, he will have his hand in the dirt rushing the passer. Clowney has the talent to be a perennial All-Pro-type player and Romeo Crennel has the motivational skills to get that type of play from Clowney.
At the other outside linebacker spot will most likely be Whitney Mercilus. Having Clowney on the other side will make Mercilus a better player. Like Clowney, Mercilus was a down lineman in college.
The inside guys will be led by Brian Cushing, who is coming off if injury. When healthy, Cushing is one of the better inside 'backers in the league. With Mercilus and Clowney outside, the Texans will try and move Brooks Reed inside. Reed doesn't have the athleticism of Clowney and Mercilus and is a better fit playing inside.
Secondary
The secondary did not play well last year and is going to have to pick it up in 2014. The starting corners are the same two guys who have started the last three seasons. Both Kareem Jackson and Johnathan Joseph are very talented, but have to play with consistency, as they give up too many big plays.
The safeties are D.J. Swearinger and Shiloh Keo. Swearinger was a rookie a year ago and made rookie mistakes. He should be more settled down in his second year. Keo is a former backup who just may not be good enough.
The Texans picked up free agents Kendrick Lewis and Chris Clemons during the off-season. While I don't expect Clemons to start, Lewis was a solid player under Crennel in Kansas City and should replace Keo. The backup corners should be Brandon Harris and rookie Andre Hall.
Outlook
Not having a frontline quarterback will keep Houston from winning many games. The Andre Johnson situation also has to be resolved. The defense is the strength of the team and they have to keep the score low so the Texans at least have a chance. If the secondary shows improvement, this is a distinct possibility.
Follow Greg on Twitter: @greggabe