In 2012, the Kansas City Chiefs finished the regular season with a 2-14 record, good for worst in the National Football League. Under new head coach Andy Reid and general manager John Dorsey in 2013, the Chiefs turned that lackluster effort around and improved to 11-5.
Critics will say it was the easy fourth-place schedule that served as the catalyst for Kansas City's quick turnaround. I disagree. Having known John Dorsey for almost 25 years and having worked with Reid for one year, I know better. Both are outstanding leaders and did what was necessary to bring confidence to an already talented roster.
The Chiefs got to the playoffs a year ago, but blew a 28-point lead in the second half of their wild card game at Indianapolis and wound up losing by a point. A loss like that can either demoralize a team or motivate them. I am betting that the loss will motivate the Chiefs to try and equal or surpass what they did a year ago.
Quarterback
Alex Smith struggled for a good part of his time in San Francisco. Many labeled him a "bust" as Smith didn't live up to being the first player picked in the 2005 NFL draft. Be that as it may, Smith still played very good football last year in Kansas City. He has matured as a player and become a good leader. While Smith isn't in the same category of quarterbacks like Manning, Brees, Brady and Rodgers, he is a solid winning NFL quarterback.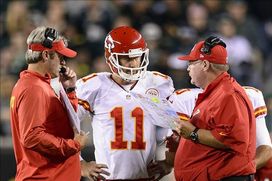 Smith threw a career-high 23 touchdown passes last season.
For the season, Smith completed 308 of 508 passes for over 3,300 yards, 23 touchdowns, with only seven interceptions. With 2014 being Smith's second year in Reid's system, I expect him to show improvement in all areas. Being that he is only 30-years-old, his best football is still in front of him.
In Chase Daniel, the Chiefs have one of the best backup quarterbacks in the NFL. Daniel is capable of winning any time he steps on the field. In the fifth round, the Chiefs stole Aaron Murray from Georgia. Had it not been for a torn ACL, Murray would have gone much higher in the draft. 2014 will be strictly a developmental year for him.
Running back
Armed with a new contract extension, Jamaal Charles is ready to continue as one of the premier running backs in the NFL. While Charles isn't one of the league's biggest backs, he is one of the fastest and most explosive players in the game. He is a threat to make a big play any time he touches the ball.
Rookie De'Anthony Thomas from Oregon is a smaller version of Charles. He has great breakaway ability and is very reliable catching the ball. Knile Davis and Cyrus Gray are two talented, but unproven backups.
Fullback Anthony Sherman doesn't get much publicity, but he is excellent at what he does. Sherman is a premier run and pass blocker and while he only touches the ball about once a game, Sherman averages almost eight yards per touch.
Receivers and tight ends
The Chiefs need more production from their wide receiver unit. Dwayne Bowe had the most receptions among wide receivers last season with 57. Next was Donnie Avery with 40 catches.
Bowe has reportedly lost weight and is in excellent shape. He needs to up his production by at least 20 percent and Avery needs to nearly double his production. Former 49ers wideouts Kyle Williams and A.J. Jenkins need to come on as the third and fourth receivers. If Jenkins doesn't improve, his days in the NFL could be over. Junior Hemingway is a good special teams player and has excellent hands, but needs to develop his route running.
At the tight end position, injuries just about wiped out this group in 2013. Anthony Fasano, the top tight end, missed seven games. When healthy, Fasano is a reliable receiver who can also block. Last year's third-round pick in Travis Kelce missed most of last year with a knee injury. He functions like a big wide receiver and can create mismatches.
The blocking tight end, Sean McGrath, retired and the Chiefs will need to find a strong blocker to replace him.
Offensive line
The offensive line is a position group that is in transition and line coach Andy Heck has his work cut out for him. The Chiefs lost some players on the O-Line during free agency. That will hurt the depth, but perhaps not the efficiency.
Last year's first overall draft pick in Eric Fisher moves over to left tackle. While Fisher struggled some on the right side as a rookie, he is a natural left tackle and after a year in the league, knows what is expected of him.
The right tackle will be Donald Stephenson, who was the third tackle a year ago. This is Stephenson's third year and he is ready to be a starter. There will be a battle during training camp for the third tackle spot between Ryan Harris and J'Marcus Webb, who have both been starters in the league and have had their moments. The winner will be the one who can play both tackle spots with consistency.
The fourth tackle will be rookie Laurent Duvernay-Tardiff, who played his college football in Canada. Laurent has the physical traits, but is raw and will need a year to develop and get used to the speed of the NFL. The Chiefs have to keep him on the 53-man roster because of his talent and upside.
At left guard, Jeff Allen returns. While he had some games where he struggled in 2013, he is very talented as well as athletic and will settle down in 2014. Who plays right guard will be determined in training camp. Right now, three players are fighting for the job. Rishaw Johnson started the final game last year and had his moments. Rookie Zach Fulton is strong and looked good during OTA's and camp to date. Free agent Jeff Linkenbach, who the Chiefs signed away from Indianapolis, can play guard or tackle and will be a valuable reserve if he doesn't start. The player with the most upside is Fulton.
The center position is in good hands with steady Rodney Hudson, the Chiefs' second-round pick from 2011.
Defensive line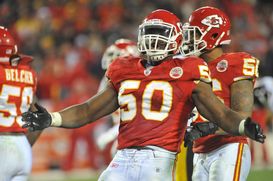 Linebacker Justin Houston has notched 21.0 sacks over his last 27 regular season games.
People questioned the Chiefs when they selected Dontari Poe in the first round of the 2012 draft. The good news for Kansas City is that they are laughing last, as Poe has turned into the best nose tackle in football. While most nose tackles can only stop the run, Poe can also rush the passer. What the Chiefs need is a solid backup so Poe can come off the field. He played 95 percent of the defensive downs last year.
The starting ends should be Vance Walker and Mike DeVito. Walker, who was a free agent signee from the Raiders, has better pass rush skills than last year's starter Allen Bailey. DeVito also is strong versus the run, but has to get better rushing the passer.
To play in the rotation, the Chiefs have Bailey and second-year man Mike Catapano. Catapano has put on 20 solid pounds and is more ready to play and it is hopeful he can provide some pass rush. Two others who figure into the rotation will be Kyle Love and Jaye Howard. Love started 25 games while with New England and could be the guy who gives Poe a break.
Linebackers
This is one of the stronger units on the club. Inside is Derrick Johnson, who has been a steady player for ten years. In free agency, the Chiefs signed Joe Mays away from the Texans. While pass coverage is the best element of Mays's game, he is also a sound run defender. Nico Johnson, a fourth-round pick a year ago, also figures into the equation inside.
Outside, the Chiefs are very good. On one side is consistent Tamba Hali, who still is strong in his ninth year, with 11 sacks a year ago. The starter on the other side is Justin Houston, who is also an excellent pass rusher. Houston missed five games yet still notched 11 sacks in 2013.
In the first round of May's draft, Kansas City added Auburn defensive end Dee Ford. Ford will convert to linebacker, but will still be playing down in pass rush situations. He was one of the top pass rushers in college football last year and is easily athletic enough to play on his feet.
Secondary
The Chiefs recently decided it was time to part ways with long-time starting corner Brandon Flowers. Flowers signed with San Diego and will be a huge upgrade for the Chargers at the position.
With the Chiefs wanting to play a lot of press man coverage, the need is for tall corners. The man who is in good position to replace Flowers is Marcus Cooper, who is in his second year from Rutgers. Cooper is 6'2" and has the press skills that the Chiefs are looking for. The other corner will be veteran Sean Smith, who is also a tall and long athlete. His specialty is press coverage.
A rookie who will get a long look will be Phillip Gaines from Rice. Gaines is long and can run and like the others, can play press. Ron Parker will also get a look and played well in OTA's. Chris Owens, a free agent who was with the Dolphins, can play inside on the slot. This group is young and inexperienced and needs to step up to the plate if the Chiefs are going to be successful.
At safety, Eric Berry is one of the best in the business. He can cover like a corner and is excellent in run support. The other safety will be Husain Abdullah, who gets his chance to start after being a backup last year. He replaces Kendrick Lewis, who was not a fit in defensive coordinator Bob Sutton's scheme. Jerron McMillian and Sanders Commings should be the primary backups.
Outlook
With the Chiefs winning 11 games a year ago, a lot is expected entering the fall. Kansas City has some question marks in that the offensive line and the defensive backfield have a lot of new faces and they have to come of age very quickly.
Still, Andy Reid is one of the best in the business and he will have his team ready to play come the first week in September. Having worked with Reid for one year and played against him for many, I know you can never sell his team short. They come to play every week.
My feeling is the Chiefs may not have enough to beat Denver for the division, but should once again be a wild card team. The key will be how they perform during the season series with rival San Diego.
Follow Greg on Twitter: @greggabe
NFP's Introduction to Scouting Class is now registering for our Winter sessions! Save $200 if you register before December 20th! REGISTER NOW!